Tillamook recently released a new line of "super premium" ice cream, frozen custard and gelato with flavors including Salted Caramel Toffee, California Pistachio, TCHO Double Dark Chocolate, Marionberry Cheesecake, and Stumptown Cold Brew Coffee. And with their recent shift to putting "real food" first, the ingredient lists are remarkably straight forward.
I'm slowly but surely making my way through the flavors, but so far, there's an unexpected frontrunner. Oregon Hazelnut Chocolate is my favorite.
Oh, you mean like Nutella, right? Not in this case. This hazelnut chocolate is first and foremost a nut ice cream.
Oregon produces 99 percent of the US hazelnut crop, according to the Hazelnut Marketing Board, and this ice cream honors that local ingredient, adding a band of chocolate in the middle and a generous sprinkle of chopped hazelnuts on top. It's fantastic straight up, but it's also delicious in an ice cream soda.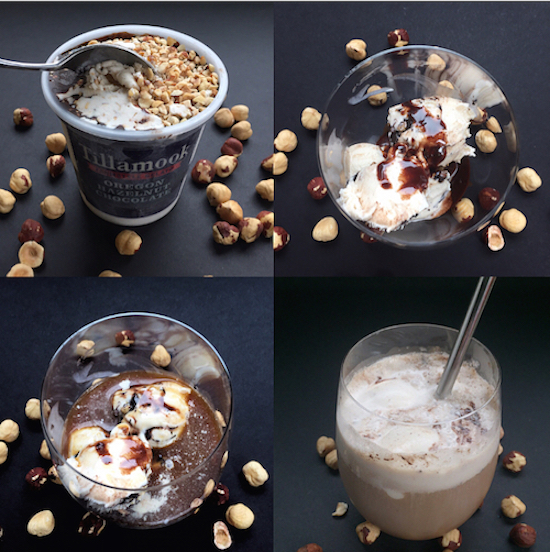 How long has it been since you've had an honest-to-goodness ice cream soda? It's close cousins with the good old float, but an ice cream soda cream soda mixes flavored syrup, ice cream and soda water or sparkling water (and sometimes milk). The soda water adds a slightly minerally tang you just won't get with root beer or Coke or Vernors. In this version, we've got homemade chocolate syrup and Stumptown cold brew in the mix and what you get is a gorgeously creamy ice cream soda with the caffeine kick of Stumptown cold brew.
Tillamook's Super Premium Ice Cream is $4.99 for 15.5 oz. container and is available in supermarkets in Idaho, Montana, Oregon, Washington, and parts of California. Check for availability at markets in your area using Tillamook's Where to Buy tool.
Ingredients
3 T. chocolate syrup, divided

3 small (ping pong ball-sized) scoops Tillamook Oregon Hazelnut Chocolate gelato

1/2 c. (4 oz.) Stumptown cold brew coffee

2/3 c. (6 oz.) sparking water + more to taste
Instructions
1
Put 2 T. chocolate syrup in the bottom of a 16 oz. glass. Add the ice cream and pour in cold brew coffee. Drizzle ice cream with remaining tablespoon of chocolate syrup. Top with sparkling water.