Tradition is just something you do more than once, said some cynical person sometime somewhere. Well, if that's the case, this Not Cross Bun loaf is now tradition. I've made it three times, and damn if it isn't simpler than shaping individual hot cross buns. And without a direct connection to Good Friday, you can have a slice of this spicy, fruity loaf any time you like. Toasts up nicely with butter, too, once it's been around a couple of days.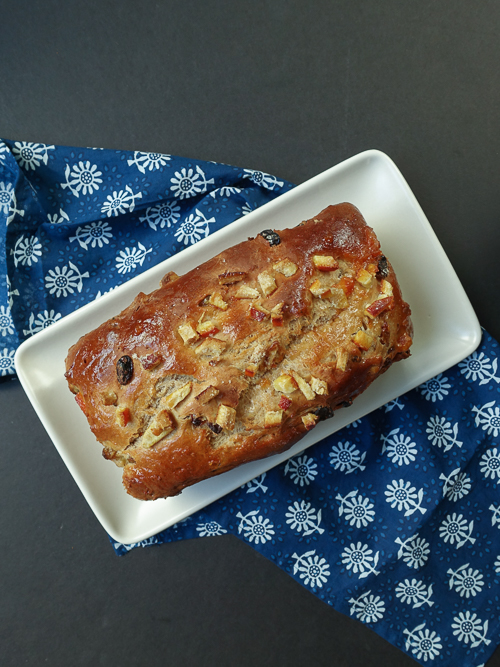 I don't want to call this a fruitcake, because of the image that conjures up for people, but I like a lot of fruit in this bread. Only raisins or currants simply aren't enough for a Not Cross Bun Loaf. It's not cinnamon-raisin bread. Candied citrus and crystallized ginger have to be in the mix. And while you can easily buy candied citrus, you may as well make it yourself. There are certainly enough oranges and lemons still kicking around, it's a heck of a lot cheaper, and for this loaf, totally worth the small effort.
One thing you may notice about this recipe is that there is no salt. It seemed like a strange omission in Donna Hay's original, but after making it three times with other tweaks to the recipe, I don't find I miss it.   If you're looking for the traditional take on Hot Cross Buns, Donna Hay has you covered there, too. The recipe is slightly different, but no less delicious.
Ingredients
2 t. dry yeast

5 T. sugar, divided

1 c. milk, warmed

2 ½ c. all purpose flour + more for kneading

2 t. pumpkin pie spice

1 egg yolk

40 gm (~2 2/3 T.) unsalted butter, melted

1 c. + 2 T. golden raisins, minced candied citrus and minced crystallized ginger, mixed

vegetable shortening, for greasing the pan

1 T. apricot jam

1 T. warm water
Instructions
1
In a small bowl, combine the yeast, 2 teaspoons of sugar and milk. Set aside until yeast has bloomed and bubbles formed, about 5 minutes.
2
Grease an 8.5 inch metal loaf pan with vegetable shortening and set aside.
3
In the bowl of a stand mixer, whisk together flour, pumpkin pie spice and remaining sugar. Fit the stand mixer with the dough hook attachment and add the egg yolk, butter and yeast mixture. Mix on low speed until a smooth dough forms. You'll need to scrape down the sides of the bowl a time or two and make sure the ingredients at the very bottom are being combined into the dough.
4
Add the raisins, citrus and ginger and run the mixer to evenly incorporate the fruit. This will only take a minute or two. The dough may still seem a bit sticky. Dust your hands with flour and finish kneading the dough in the bowl several turns until the fruit is evenly distributed. As you finish the kneading, form the dough into a smooth log shape to fit into loaf pan.
5
Set the dough in the pan, cover with a dishtowel and let rise until doubled in size, about 1 hour. Set the oven rack in the middle of the oven and preheat the oven to 355F.
6
Top the risen loaf with the remaining 2 T. of candied citrus and ginger. Bake the loaf for 40 minutes until browned.
7
Just before the loaf is done baking, make the glaze, mixing the apricot jam and water together in a small bowl.
8
When done, let the loaf rest in the pan on a baking rack for 4-5 minutes. It should release fairly easily from the pan, but you can run a butter knife around the edge if necessary. Turn it out onto the baking rack and while still warm, brush the top with the jam mixture. Slice and serve.
Notes
Adapted from Donna Hay's Hot Cross Bun Loaf, this Not Cross Bun Bread is loaded with raisins, candied citrus and candied ginger and scented with a spice mix of cinnamon, nutmeg, cardamom and lemon peel.