Every time I look at the hashtag #traderjoes on Instagram, people are posting their healthy eating pics – riced cauliflower, beet juice, yogurt, salads. It's true, Trader Joe's is great for grabbing some of those healthy staples at a reasonable price. Of course, Trader Joe's also sells Peppermint Joe-Joe's and a frozen mac and cheese that's so unreasonably good for frozen that I'm sorry I've burdened you with this info. Bottom line, it's not all purity and virtue. And now, there's something else you need to know about Trader Joe's.
You can get all the ingredients to make a healthy knock-off of a Taco Bell bean burrito.
Why would you want to do that?
Welcome to my shameber. There were no fewer than three Taco Bells within a couple of miles of my high school. As seniors, we could escape campus at lunch and in short order, my bestie and I had a "usual" at Taco Bell. Two bean and cheese burritos and a medium Dr. Pepper.   The nachos supreme slipped in there, once in awhile, but two bean burritos were right in the sweet spot for a high schooler's budget. This was in the "Run for the Border" 59-79-99 cent days, so you could get lunch for less than $3. It wasn't an every day thing, but it was often. Too, too often.
Now, set aside your foodier-than-thou tendencies.  Own up to loving some really terrible for you, but damn-why-are-they-so-good foods. Lick the Cheeto dust off your fingers. No judgment. You're judging me, aren't you?
One of Trader Joe's hidden secrets is that their bottled enchilada sauce tastes just like Taco Bell's red sauce, without the four-syllable ingredients. I kid you not, this is almost a Taco Bell bean and cheese burrito – and it's healthy.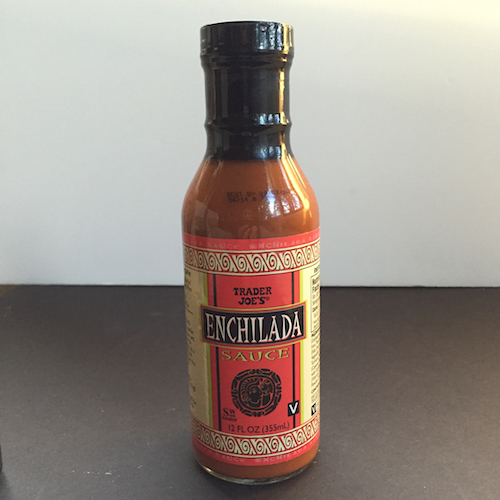 All the major ingredients come from Trader Joe's. This is no slap-dash kind of thing. You're going to doctor up the beans with some onion, garlic and cumin. The finely grated cheese is key. And if you really want to relive that Taco Bell experience, microwave the finished burrito for 15-20 seconds. It's kind of crazy. So trashy, so crazy good.
Trader Joe's Taco Bell-Style Bean and Cheese Burrito
Print Recipe
Ingredients
4 Trader Jose's flour tortillas (burrito size)

1 can Trader Joe's traditional-style, fat-free refried beans

1 small yellow onion, diced finely (divided)

2 T. olive oil

2 cloves garlic, minced

1 T. ground cumin

¼ c. water + more, as needed

Trader Joe's enchilada sauce

1 c. finely grated cheddar cheese
Instructions
1
Heat the olive oil in a sauce pan over medium-high heat. Add half the onion and sauté until lightly browned. Add the garlic and cook for a minute longer, until it's fragrant. Reduce the heat to medium-low and add the refried beans, mixing until the onion/garlic mixture is evenly distributed. Stir in the cumin. Cook for 3-4 minutes until the beans are heated through. Add the water, plus more as needed, to loosen the bean mixture.
2
Warm the tortillas on the stove over an open flame until pliable and lightly browned in spots. On each tortilla, spread about ½ c. of refried beans on the tortilla, cover with the desired amount of enchilada sauce, sprinkle over some onions and top with ~1/4 c. cheddar cheese.
3
Fold the tortilla burrito-style, leaving one end open, for true Taco Bell style. Take a bite and then laugh at yourself, because it's totally ridiculous, but it actually does taste like a Taco Bell burrito.