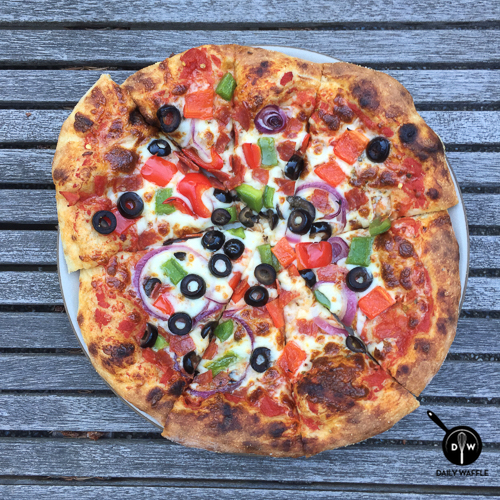 Sometimes there's no big story. Sometimes it's just what you made for dinner. That sometime is now.
Ingredients
1 ball of dough from Kenji's NY Style pizza dough

1/3 c. crushed tomatoes

1/2 t. dried oregano

olive oil to drizzle

1/4 c. sliced black olives, drained

1/3 c. red bell pepper, large dice

1/3 c. green bell pepper, large dice

2-3 slices red onion, separated

6-8 slices pepperoni, diced

~ 1 c. grated dry mozzarella

cornmeal for dusting the pizza peel
Instructions
1
In the upper third of your oven, preheat Baking Steel for ~ 1 hour at 500F. Turn up to broil or 550F when ready to bake.
2
Dust your pizza peel with flour and cornmeal. Pat the dough into roughly a 10-inch round, careful not to flatten the edges. Make sure it slides easily on the peel.
3
Spread the crushed tomatoes on the dough using the back of a spoon, leaving ~1/2 in. border. Sprinkle on the oregano and drizzle with olive oil. Add the mozzarella first, then olives, bell peppers, onion and pepperoni.
4
Bake for 7-9 minutes (5-7 if broiling) or until the cheese is bubbly and the crust is well browned. Let rest on a cooling rack for 1-2 minutes. Slice and serve.