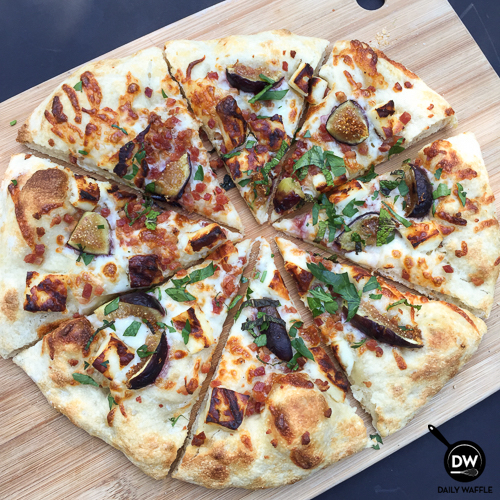 Now it feels like summer. We've had a run of crazy beautiful, sunny warm days. It's light until almost 10 p.m. here. All you wanna do is sit outside, fire up the grill and sip a glass of white wine. This fig, pancetta, haloumi pizza/flatbread is exactly the nibble you need to go along with.
The brainstorming on this one was inspired by the #TopThis contest Tom Douglas' Serious Pie restaurants have been running the last couple of weeks. Winners get a $25 gift certificate and their pizza is featured for the week on the happy hour menu at Serious Pie. I submitted a couple of ideas the first week and won with a cherry, speck and mozzarella combo. The wheels kept turning in my head and this flatbread was born.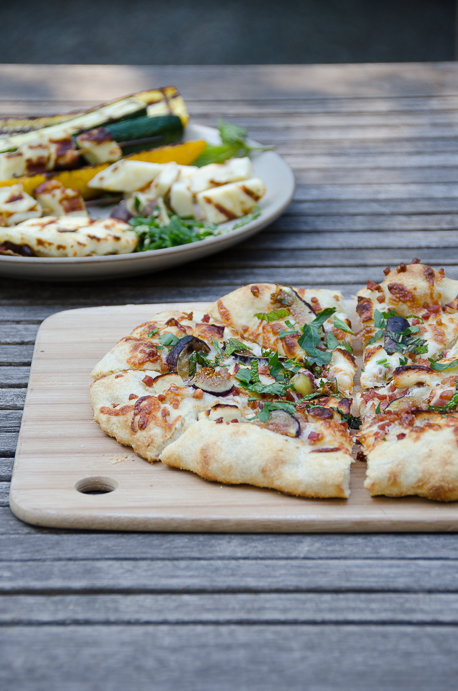 So here's the lowdown. You do need to grill the haloumi cheese first — it absolutely makes a difference. When it comes to pizza, I live and die by my Baking Steel, but if you'd rather not turn on the oven, you could certainly do the whole thing on the grill. Either way, why not throw on some extra vegetables while you're out there? As usual, the dough is Kenji's NY Style boosted with 2 t. of diastatic malt powder (optional). The malt adds flavor and purports to help finished bread loaves last longer. Pizza never stays around long enough to test staying power, but I can attest that it does make a difference in bread.
The wine is poured, the pizza is done. Ok, now it feels like summer.
Ingredients
1 dough ball from a batch of Kenji's NY Style Pizza Dough

1 c. grated part-skim mozzarella cheese

2 oz. minced pancetta, rendered

2 medium figs, halved, each half cut into thirds

2 slices of haloumi cheese, grilled then diced into 1 inch cubes

1 T. mint, cut into chiffonade

2 T. Italian parsley, minced

Flour & cornmeal for dusting your board/pizza peel
Instructions
1
Note that this recipe requires a little work ahead of time, rendering the pancetta and grilling the haloumi.
2
In the upper third of your oven, preheat Baking Steel for ~ 1 hour at 500F. Turn up to 550F when ready to bake.
3
Dust your pizza peel with flour and cornmeal. Pat the dough into roughly a 10-inch round, careful not to flatten the edges. Make sure it slides easily on the peel.
4
Sprinkle the mozzarella on the dough, keeping a 1/2 inch border around the edge of the pizza. Add the pancetta and arrange the figs and haloumi cubes evenly so that each slice will get a little of all the toppings.
5
Bake for 7-9 minutes or until the cheese is beginning to brown. Let rest on a cooling rack for 1-2 minutes. Garnish with mint and parsley. Slice & serve.