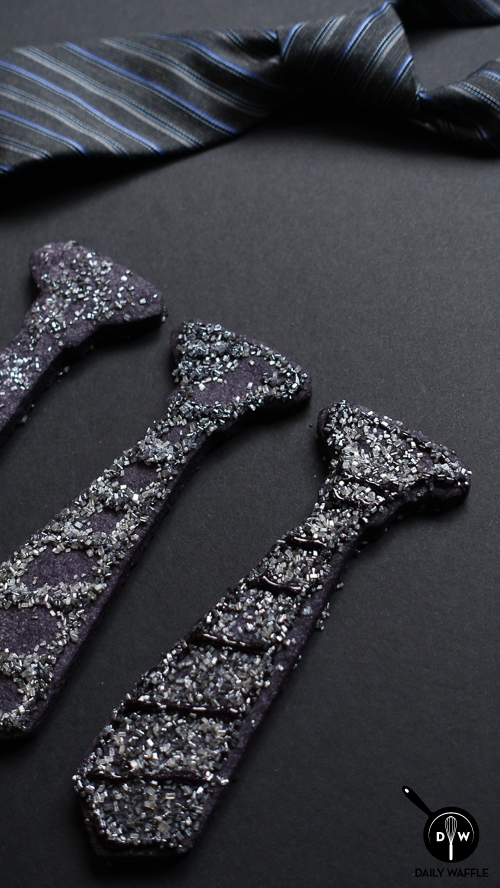 Fifty Shades of Grey ties, huh?
I debated whether or not to do this post, mostly because it feels like a Pinterest fail waiting to happen. But what the hell, if you're even moderately crafty, you can make these grey tie cookies without too much trouble. They certainly won't look like they came from a bakery where someone with real artistic skill is decorating your cookies, but that sort of fits the bill with these 50 Shades of Grey tie cookies, doesn't it? Everyone slags the book and yet millions have read it. This Friday theaters will be at capacity with people who want to see Christian Grey and Anastasia Steele brought to life.
First word of advice — DON'T use the sugar cookie dough from the refrigerated section at the grocery store. Although recipes online suggest you can just add 1/4 to a 1/2 cup of flour to the dough, it doesn't work at all with these cookies. They don't hold their shape and what you end up with won't get an 'R' rating. Add too much flour and it just turns into a crumbly mess that doesn't roll out very well.
I turned to Just Jenn's Weeping Angel cookies for guidance, knowing Jenn does tons of cutout cookies from Yoda to the Hulk to Dr. Who.  Her dough works like a charm and it tastes good.  I added a smidge more than a pinch of salt to balance out the sweetness.
The tie cookie cutter came from a menswear set available at Target a couple of years ago. In addition to the tie, it also had a beanie and sunglasses , which is what I was really after. The set is still available via couple of sellers on Amazon.
 There's another option here, though it's a slightly wider, shorter tie.
After a quick trip to Michaels for decorating supplies, a few drops from a jar of black icing color gave me the grey I wanted. Knowing we wanted the dough to be really grey, I mixed it beyond the "like blue cheese" Jenn suggested, so that it was uniformly dark grey, but not black. The cookies lighten slightly when baking.
You've got a few options on how to decorate them, depending on how involved you want to get. The last one, you sprinkle before baking and then later do the black outline and sprinkle again. Even pressure is key with the decorating gels, but the sugar sprinkles can help cover up most unevenness. Use a sheet of parchment or waxed paper to do a few practice runs to get a feel for how the gels come out of the tube.
I hedged my bets and split the dough recipe in half (more or less) when it came time to add the icing colors. I got 10 ties, so I'd estimate 15-18 from a full batch, depending on how you cut them.
DOUGH RECIPE: Just Jenn's Weeping Angel Cookies 
Enjoy.