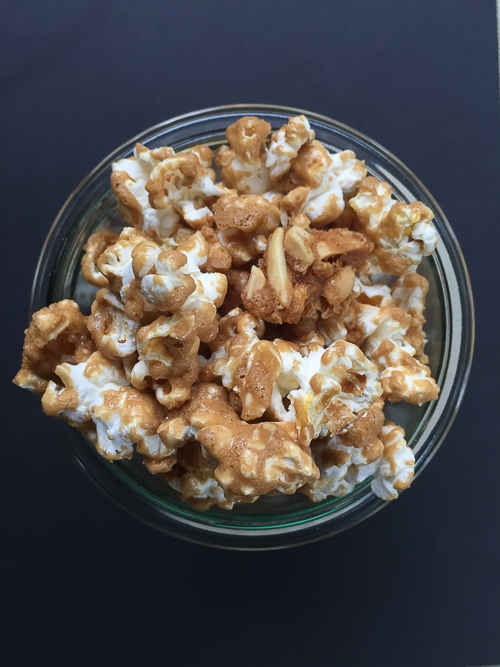 Popcorn is due for a comeback. An aluminum tub of slightly stale popcorn — plain, cheddar and caramel — was an '80s Christmas staple. Now, it just seems like a cheap office gift ordered from some terrible catalog.  Long before kettle corn took over the popcorn scene, there were "gourmet" popcorn shops at the mall. After picking up some jeans at Miller's Outpost, you could pick up popcorn dusted in flavors like Barbecue, Sour Cream and Onion, and Ranch. Ah, the good ol' days.
With kettle corn overshadowing everything else in the popcorn universe, it's been easy to forget about good ol' caramel corn. The thing is you don't have to go to the mall or wait for Christmas. Making caramel corn at home isn't that hard and it's just not that expensive. Let's make some caramel corn with salty peanuts. It's time.
In another throwback to the 80s, I air-popped the corn in my good ol' Anchor Hocking Microware microwave popper. Talk about vintage. We had one of these when I was a kid and I picked up this one in a college garage sale swap (see, Jessica, I still have it!).
You'll want to add a little more salt if you're not using commercial microwave popcorn. And give it a good sprinkle of Fleur de Sel or Jacobson's Sea Salt, if you've got it, as you stir in the caramel.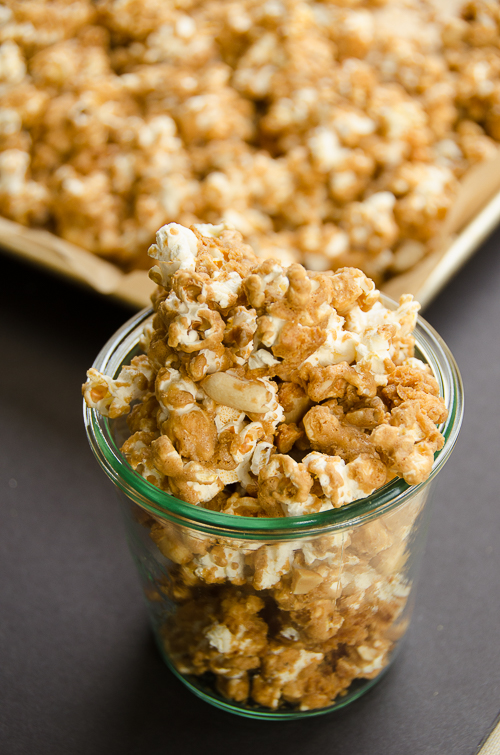 The recipe comes from DamGoodSweet by David Guas and Raquel Pelzel via Molly Wisenberg's Orangette blog. Molly and Matthew spotlighted caramel corn in a recent Spilled Milk Podcast.