In the way back times of the Internet, circa 2000, people were predicting you'd be able to watch TV shows online and be able to immediately click and buy the clothes Rachel or Monica were wearing. And though product placements have gotten waaaaaay more overt on TV and elsewhere, I'm still not seeing them convert that directly to purchases. What's interesting is ID'ing items, whether paid placement or not, has made its way into the food world to some extent.  Have you noticed that Food and Wine has been adding prop captions to their photos?
For those of us who have too many dishes and utensils, but always seem to find room for more, I love not having to see if they've included sources at the back of the magazine.  I can't say I've bought anything as a direct result, but clearly there are a lot of us coveting pretty dishes and linens and utensils. This weekend, I went to Urban Craft Uprising in Seattle and picked up some tea towels and other kitchen accoutrement that I'm sure you'll soon be seeing here.  So today's post isn't really about the raspberry mint sorbet, it's more of an excuse to show off some cute kitchen stuff I've picked up along the way.
I will say, by Seattle standards, it was hotter than Hades this weekend, and when it's that warm, even ice cream seems a little too mookie to really provide the refreshment you need. Hence, the sorbet.
SUCRESHOP. Spoons. Since I bought these spoons last year on a OneKingsLane deal, SucreShop's selection has expanded to include spoons, forks, dessert cups and now chopsticks. Bright colors, trendy designs and cute party motifs. Love it.  The only thing missing is a spork design.
WALLINGFORD CO. Tea towel.  Finally checked out this local designer at Urban Craft Uprising this weekend, after following her on Instagram for a few months. I could have bought one of each of these chevron-studded tea towels — they come in charcoal, red and green. Her collection also includes screen-printed pillow covers, gift tags and card sets.
HEATH CERAMICS. The big daddy of simple dinnerware and serving pieces. I keep an eye on their seasonal collection to bring more color into the kitchen. Lucked out on these two little dishes individually at the LA showroom. If you happen to visit San Francisco, shipping is free from the San Francisco Ferry Building location.
In addition to Wallingford Co., there were some other cool vendors at Urban Craft Uprising this past weekend: 
VICTORY GARDEN OF TOMORROW has a number of propaganda/WPA-inspired prints that promote growing and eating real food and recycling. If I had chickens, you know that "You Gonna Eat That" tea towel would have come home with me. Our walls are chock full, so I opted for the "Eat Real Food" dish towel and a set of postcard prints.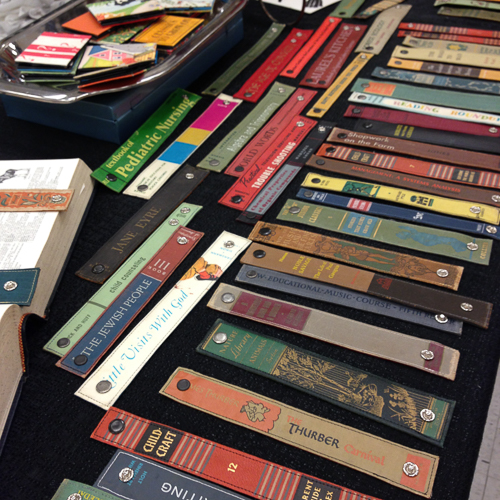 EX LIBRIS ANONYMOUS' main deal is journals made from vintage books, splicing and rebinding blank pages into them.  In putting a spiral binding on the journals, the spines are removed and some are made into cuff bracelets. The books cover a broad range of genres and later, looking at the site, I noticed they had Deutsch Aktuell 1, my German 1 book from high school. Not that I want to relive that class, but had it been at the show, I might have brought it home.  They also offer a custom service, if you've got a vintage book you want to journalize.
Urban Craft Uprising's main shows are Summer and Winter. In addition to the Winter show December 6 and 7, 2014, they'll also be doing an Urban Craft Market in partnership with the Seattle Street Food Festival, August 8 and 9, 2014 in Capitol Hill.
Ingredients
1 c. water

2 c. sugar

1/2 c. finely chopped spearmint leaves

3 c. fresh raspberries

1/4 c. freshly squeezed lemon juice
Instructions
1
Combine water, sugar and mint in a medium sauce pan. Cook over medium heat until the sugar is fully dissolved, stirring occasionally. Once dissolved, turn off the heat, cover and let the syrup steep for 30 minutes. Pour the syrup into a bowl and refrigerate until chilled, about an hour.
2
In a blender, puree the raspberries and lemon juice. Strain half the raspberries through a fine mesh strainer and discard the seeds. Add the strained raspberries back into the blender and chill the raspberry mixture until completely cooled. If your blender carafe doesn't fit in your fridge, pour the mixture into a bowl and chill.
3
Whisk together the raspberry mixture and mint syrup and pour into your ice cream maker. Chill according to the machine's instructions. Pour the sorbet into a container and freeze until firm.