If you've heard of Walla Walla, Washington, the first thing you think of  is sweet onions. But over the the years, wine and grapes have been muscling in on that territory. It's in Eastern Washington, about a four hour drive from Seattle. A couple of weekends ago, we got in the car, crossed the Snoqualmie Pass and drove out for Nocking Point Wines' spring release party. The pet project of 'Arrow' star Stephen Amell and his buddy Drew, Nocking Point is a small label with wines created by a few different winemakers.  The party, held at sports bar in Walla Walla, gave us an opportunity to head out east and see some of Washington, at least I, hadn't seen before.
Once you're over the Pass, you're in central Washington's farm country. Just off the highway, in a town called Union Gap, on a stretch of road dotted with used car dealerships and old fast food restaurants, is a low-slung white brick building with a glass storefront.  This is the home of Los Hernandez.  It's a no-nonsense little place, focused on one thing, tamales. There are two or three small tables and a wire rack holding bags and bags of dried corn husks, ready to be taken home.  Most of the year, there are two kinds of tamales – chicken and pork, but during the spring, there's an extra reason to come to Los Hernandez: Asparagus and pepper jack tamales.
Huge steel pots sit steaming on the back stove and 2-3 ladies fill orders while another takes them and rings them up. People stream in, picking up dozens. A couple driving back to Montana stopped in for five dozen while we sat and ate. First, it was just two tamales each, and by the time we walked out, we'd eaten nine between the two of us. Yes, nine.  While most tamales are masa bombs with just a little bit of filling, Los Hernandez knows its business. The masa is relatively thin layer encasing the pork or chicken. In the case of the asparagus, the masa and asparagus are mixed together, a trick I'll be using on my next tamale attempt.
I've been obsessing about these tamales for a couple of years, but was never able to come up with a reason to get us out to Yakima, just for tamales. But finally, it was the mid-way point on the way out to the Nocking Point party in Walla Walla and as it happened Owen Roe was also having an open house at its new facility in Yakima.  Finally, a confluence of events that got us to Los Hernandez. These tamales are everything they're cracked up to be. Had I known just how good they are, we would have driven two hours just for tamales a lot sooner. And in fact, we stopped in again on the way home to pick some up for dinner. The asparagus tamales are a seasonal, limited time item, so call ahead if you're planning to head out.  But really, the pork tamales are so good, too, you can't lose.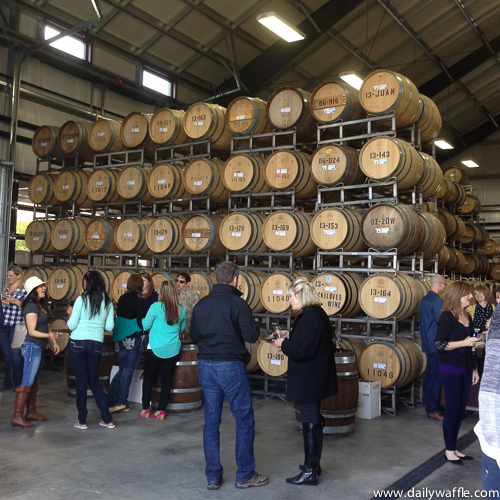 A quick look at Owen Roe, Yakima.
Just for for fun – one of the ceiling fans at Owen Roe. One Big Ass Fan, indeed.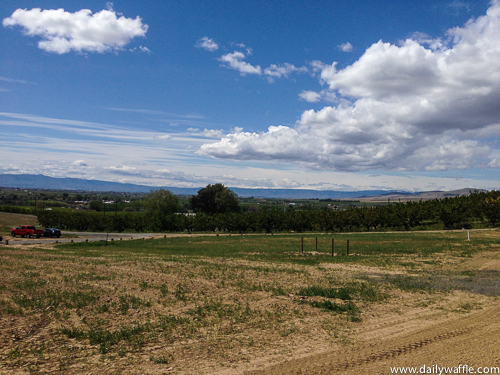 The view from Owen Roe, Yakima
Next up: a look at Walla Walla, Washington.