Here's the deal. Meatballs are not pretty. They're like most of us – dented on one side, browned but splotchy, hiding beneath a red sauce, and hoping everyone is distracted by the parmesan sprinkled over the top.  F that.  Today, we're stripping it bare, because what do you have to hide? A meatball is a meatball, and done right, there's no shame in it.  I'm not your nonna and this isn't Sunday where we have all day to cook a gravy, so let's make some Greek-inspired, Spinach and Feta Turkey Meatballs.
Full disclosure, these are based on Rachael Ray's Florentine Meatballs, which I've made off and on since Food Network actually had cooking shows on the air. 
What we have here is all the obvious Greek flavors – feta, oregano, onion, plus spanakopita's, well, spinach. If you're gonna be a turkey meatball, be flavorful. Be alive. Be tasty. Be salty, but not too salty. But don't you dare hide in a sauce.  Don't ever (ever, ever, ever) be boring.
Oh, but there's a formula to meatballs. And formulas, in cooking anyway, are…boring.  Please. Once you give these kefte (what, it's Greek for meatball?) a try, you'll want to start to tinker. And tinkering is never boring. It might be ill-advised. It might even be dangerous.  But, whatever.  You'll be within striking distance of Giada's turkey meatballs with a handful of chopped Italian parsley in place of the spinach, parmesan in place of the feta and a squeeze or two of ketchup (go with Traina's Sun Dried Tomato Ketchup, if you know what's good for you). Or go Asian with green onions, a little grated ginger and garlic, and a splash of soy sauce. But do me a favor, don't douse them with teriyaki sauce. I beg you.
Now, meatballs invariably mix in an egg. I never use egg with turkey. Dark meat never really seems to need it. If you use turkey breast, fine, add an egg. Whatever you do, don't ever be afraid. Meatballs to the wall, I say.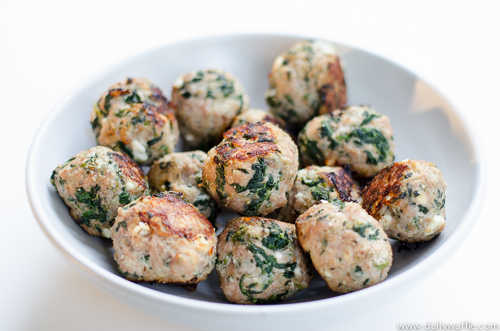 Ingredients
1 lb. ground turkey (thighs preferred)

1 10 oz. box frozen chopped spinach, thawed

¼ c. finely chopped yellow onion

¼ c. fine bread crumbs

1 clove of garlic, grated on a microplane

¼ c. feta cheese, crumbled

1 t. dried oregano

black pepper

non-stick spray
Instructions
1
Preheat oven to 375F. Spray a baking sheet with non-stick vegetable spray.
2
Thaw the frozen spinach in the microwave and squeeze out as much water as you can, by wringing it out in a dishtowel. It'll be a little smaller than the size of a tennis ball. Break it up into bits.
3
In a large bowl, combine ground turkey, spinach, onion, bread crumbs, garlic, feta and oregano. Season with a few cracks of black pepper. Mix until add-ins are evenly distributed, but try not to overwork the meat.
4
Form the turkey into about 1 ½ inch, golf-ball sized meatballs. Arrange on a baking sheet and spray with non-stick vegetable spray. Bake for 15 minutes, then turn with a metal spatula. Bake for 10 minutes more. Meatballs should be at least 165F internally.
5
Serve with sun-dried tomato ketchup.