It's the first Monday in the new year. Gyms will be packed, kale will be in short supply and you'll be able to get a drink at your favorite bar as everyone is trading gin for juice (mean green, that is). Look, we all should have eaten fewer M&Ms and had one less hot toddy, but what's done is done. Just because it's January doesn't mean you can't eat better and keep dessert in your diet.  By February, you'll have forgotten all about your resolutions, and there's Super Bowl food to think about, so before then, fine, be totally virtuous.  And you can do it with Carrot Cake Cookies with Greek Cream Cheese.
Yes, Greek Cream Cheese. It's cream cheese meets Greek yogurt, resulting in a cream cheese that's lower in fat, higher in protein and includes live and active cultures. The folks at Franklin Foods were kind enough to send some samples my way. The product is now available in the Pacific Northwest under the Kroger brand at its various stores. I've spotted it at both Fred Meyer and QFC alongside the cream cheese and Neufchatel. A full list of retailers, across the US, is available on the Greek Cream Cheese site.
I really didn't get into holiday cookies this year, despite having a bought a ridiculously large bag of chocolate chips at the start of the holiday season. So, I have less than zero guilt about eating these cookies in the New Year. Sure, it's a little eye-rolly to start the year touting healthy cookies, but in this case, they really are just that.  With or without the Greek Cream Cheese, it's breakfast or dessert-worthy clean eating — just oats, walnuts, raisins, applesauce, banana. Minus the cream cheese frosting, these cookies are vegan, dairy-free, egg-free and for that matter, free of refined sugars.  If those requirements don't apply to you, don't let the labels put you off, these little cookies are straight up good, not just good for a recipe that doesn't have egg, butter or oil. And with a dollop of frosting…duh.
A single batch makes ~ 24 cookies, or 12 if you opt to sandwich the Greek Cream Cheese between them.  I still haven't bought a set of cake decorating tips or a piping bag, but in this case, a ziptop bag works just fine. My piping skills, honed during a college stint at Mrs. Fields, remain intact (if you ever ordered a cookie cake, and you really liked it, I may have done the decorating). And now, well, I can still make a pinwheel without blobbing frosting over the sides. Just don't ask me to write "Happy Birthday" on them.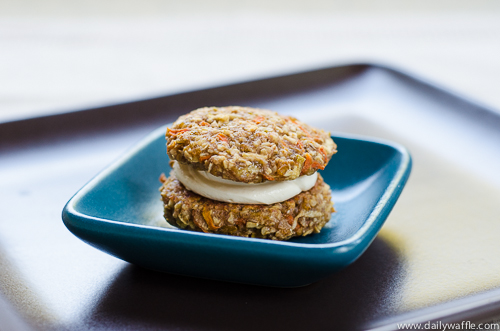 Carrot Cake Cookies
Recipe Type
:
Dessert, Breakfast
Author:
Cook time:
Total time:
Serves:
24 individual cookies
Ingredients
1 c. raw unsalted walnuts
1 c. rolled oats
1 c. golden raisins
1/2 c. whole-wheat pastry flour
1 1/4 t. baking powder
1 1/4 t. ground cinnamon
½ t. salt
½ t. ground ginger
2 carrots, grated
1 granny smith apple, grated
1 very ripe banana, peeled and mashed (roughly 1/2 c. in a dry measure)
1/4 c. applesauce
1 8 oz. brick Greek Cream Cheese
~½ c. powdered sugar, sifted (or less, to taste)
¼ t. lemon zest
½ t. vanilla extract
1 t. milk (if needed, to thin the filling slightly)
Instructions
Preheat oven to 350F. Line a baking sheet with a silpat or parchment paper.
In a food processor, combine walnuts, oats and raisins and process until finely ground.
In a large bowl, whisk together the walnut/oat mixture, whole wheat pastry flour, baking powder, cinnamon, salt and ginger. Stir in the carrots, apple, banana and applesauce, until the dough is evenly moistened.
Using a small spring-loaded scoop (about 1 ½ tablespoons), create dough balls and arrange them on a cookie sheet, about 2 inches apart. Flatten the cookies with a fork. If making sandwich cookies, flatten the dough balls in the palm of your hand to create little patties.
Bake for 20-25 minutes until the edges are beginning to brown. Let cool for 2-3 minutes on the baking sheet and then transfer to a cooling rack.
In a small bowl, whip the Greek Cream Cheese with powdered sugar, lemon zest and vanilla extract. If needed, add 1 t. milk to thin the filling slightly. Spoon the filling into a ziptop bag. Make sure the cookies are completely cooled before piping on the filling. Cut the corner of the bag to about 1/4 inch wide and pipe onto the cookies in a circular motion.