Sometimes you just have to do a little something for yourself. My birthday was on a Monday this year, so I didn't take it as a day off. Instead, I thought about getting myself cupcakes or a dozen donuts, but then decided to make myself an apple galette with the Arkansas Black apples I had rolling around the produce drawer. Is that the practical side of adulthood?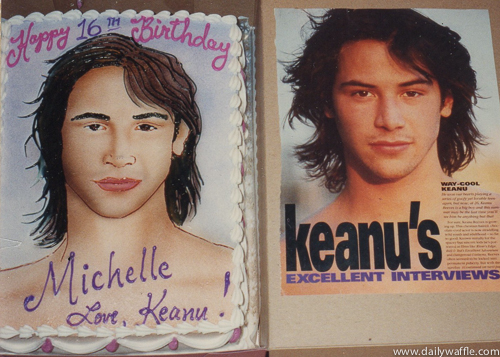 The galette is a weird choice for me I'll admit, since I'm much more of a chocolate cake birthday girl, but I just didn't feel like making and frosting a layer cake…and I'd done that a couple of months ago for Wolf's birthday.  I have had many most excellent birthday cakes over the years, so you can see why it would be hard to measure up.  Keanu was chocolate with rum filling, I think.
The beauty of this simple little galette is that it was dessert on my birthday night and breakfast the next morning.
I'll just be blunt.  This galette is Pie for Dummies, of which, I count myself one. Despite the fact that I was the only one in my 7th grade home-ec group who'd ever made a pie crust before facing that challenge in class, I did not turn into a pie baker.
Even still, I had one of those "Yeah, no, I made this!" moments with this galette.  But it had nothing to do with me (or the crust). It was all about the apples.  Thick skinned, tart-sweet Arkansas Black apples. I couldn't even bear to peel those red-black beauties. Ice cream, whipped cream and cheddar cheese have no place here. Just apples with a dusting of cinnamon and sugar.
On a blazing bright winter morning, with a hot cup of coffee, it was delicious. I ate two slices. That's adulthood. Practical? Yeah, well.
Ingredients
1 frozen or refrigerated pie dough (Trader Joe's preferred)

3-4 smallish Arkansas Black apples (granny smith ok, too)

3 T. sugar

1/2 t. cinnamon (more if you like)

2 T. butter, melted
Instructions
1
Defrost dough according to package directions.
3
Halve and core the apples using a melon baller. Slice each half thinly and set aside.
4
If your tart pan has a removable bottom, line a baking sheet with parchment and set the pan on it. Put the dough into an 8-inch tart pan, pressing gently into the sides. You don't necessarily want to form the dough to the pan, you just want to create enough room to arrange the apples. Fan the apple halves out slightly and arrange in the pan. Sprinkle the apples with cinnamon and sugar.
5
Brush the apples with melted butter, then fold the edges of the dough toward the center.
6
Bake for 35-40 minutes until the crust is lightly browned.