Hatch Chile Season 2013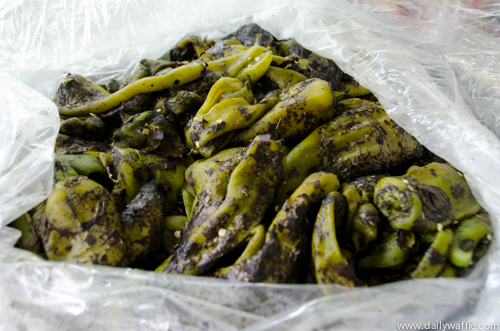 The back to school stuff is going in Target, heralding the end of the summer.  Soon enough it'll be time for backpacks and lunchboxes and binders, but before we give ourselves over to  F-A-L-L, it's time to worship at the altar of the Hatch chile. Last summer I froze 25 pounds worth and it looks like I was pretty stingy in doling out the chiles over the year since  I still have several bags in the freezer. But there's nothing like fresh roasted, and stores across the country are already breaking out their roasters with events starting this weekend.
Whether you pick mild, medium or hot, once you've got a couple of pounds (or 25), you'll need some ideas.  And when it comes to Hatch chiles, I return again and again to a few favorites — Hatch Chile Mac n Cheese, Chicken Enchilada Casserole and these Hatch Chile popovers, which just may kick your old cornbread to the curb.
I'll update this post with new roasting events as information becomes available. You can also check out this Pinterest board for fresh ideas as we roll into Hatch chile season.

ROASTING EVENTS (Updated: 9/2/13)
Melissa's Produce Roasting Events(AZ, So. CA, NV, IL, KS, MD, NE, OH, VA)
Albertson's (Los Angeles-area & Las Vegas)
Bristol Farms Hatch Chile Roasting (Los Angeles area, starts August 17)
Frieda's Produce Roasting Events (OH, CA, IL, IN, MI, NY, MO, PA, TN)
Gelson's (select Los Angeles & Orange County locations, starts August 10)
Whole Foods Market (Bellevue, WA; August 10)