How many times have you moved as an adult? Me, 11 times. It's never fun, and it gets worse, the older you get. Once, early on when I moved from LA to the Bay Area, I shipped a bunch of stuff by mail. Moving by mail is not a great idea. Unless you want to buy all new stuff. Then finally there comes a time when there's no more rounding up friends with promises of beer and pizza. You just bite the bullet and hire movers. After 11 moves, I can't believe some of the things that have made the trek. I've been looking for a peach pit ring that my grandpa carved, at least that's how I remember it. I'm convinced I have it somewhere. And I can't find it.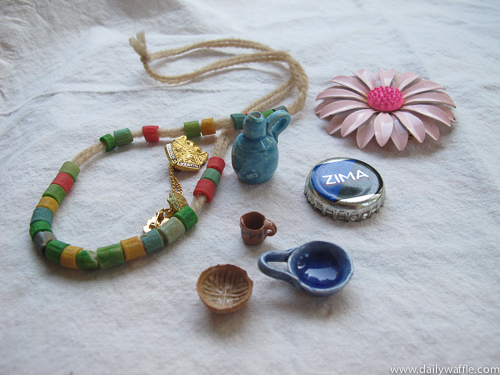 What I do have is my German Club pin, some itty-bitty dollhouse pottery dishes my auntie brought me from Mexico, a high-school era blue t-shirt from Miller's Outpost and a macaroni necklace on yarn circa 1978. I was all set to show you the peach pit ring and talk about the tree in my grandparents backyard that only ever ponied up two or three peaches during my childhood — I wouldn't call it the Giving Tree. But that story will have to wait until another day, because after 11 moves, I can't find that ring.
So instead of peaches, pickles. Fitting, I think. I'm tiptoeing into food in jars. I can't quite call it canning yet, because I'm waiting for prime raspberry season, which should be hitting in the next few weeks. This weekend was the first time I'd seen Kirby cucumbers at the market, so I picked up a half dozen to make some quick pickles.
Since I'm alone in this house in my appreciation for dill pickles, using the general guidelines in this Serious Eats piece on How to Quick Pickle, I worked up what I'll call Hapa Kid Pickles — half Asian with rice vinegar and half hakujin with traditional pickling spices and a hit of red pepper flakes. There's no fermentation here, so what results is a slightly sweet pickle, yet it's nothing like the bread-and-butter variety, with some nice crunch. Half a teaspoon red pepper flakes was a bit light for my taste, so double it if you like a spicy pickle.
I'll let you know if I find that ring.
Ingredients
½ c. white vinegar

½ c. seasoned rice vinegar

1 to 1 ¼ c. water

4 T. granulated sugar

1 T. Marketspice pickling spice mix (any standard pickling spice mix will do)

½ t. red pepper flakes, or more to taste

¼ t. yellow mustard seeds

2 large garlic cloves, smashed

5-6 Kirby cucumbers, quartered

1 T. kosher salt
Instructions
1
Put the quartered cucumbers into a colander in the sink and sprinkle with kosher salt. Let sit for 15 minutes.
2
Meanwhile, combine the vinegars, water, sugar, pickling spices, red pepper flakes, mustard seeds and garlic in a medium sauce pan. Bring to a boil over medium high, then turn off the heat.
3
Arrange the cucumbers vertically in a large jar. Pour in the brine mixture and make sure the cucumbers are covered completely. Let cool on the counter. Then cover and refrigerate for 24 hours to let the flavors meld.