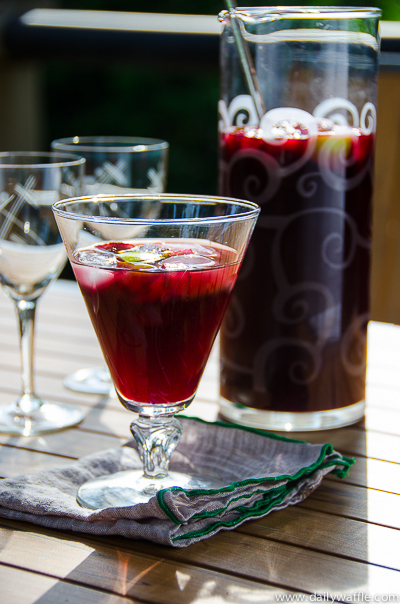 It only takes a few lost Sundays to put you off one drink or another. There's a reason people snicker knowingly at, "One margarita, two margarita, three margarita, floor."  In college,  one too many cheap, bowl-sized glasses of sangria put it on my list of top hangover-inducing beverages, right behind bottom-shelf margaritas and Long Island Iced Teas.  It'd been a long time since I'd had sangria, and even longer since I'd had good sangria.  Until La Condesa.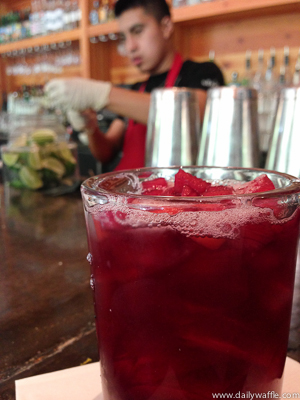 I'd been a fan of sangria since my early days.  In elementary school my mom made a kids sangria punch and a big batch of salsa for one of my birthdays.  A fruity concoction with a 7-up spritzer and slices of orange and lemon in it, what's not to love? Fast forward a few/several/15 years and I can have that with wine? I'm in. Until one of those fateful Sundays.
I didn't actually drink much while in Austin.  Our booze consumption in general has been down since Wolf's been running and with temps in the 90s, hydration was key for this weather weenie. But on my last day in Austin, over brunch at La Condesa, I said, what the hell.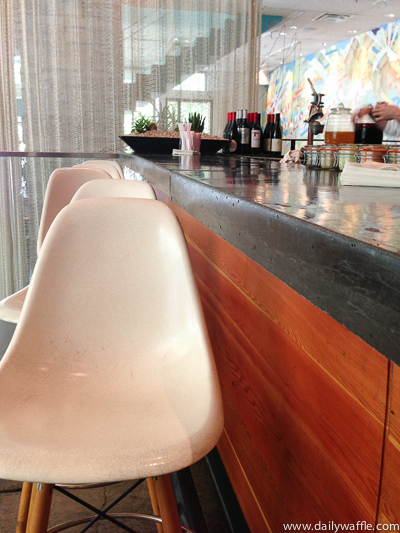 Lured by the beehive jars at the bar, I thought the ruby liquid might just be jamaica.  It turned out to be a deliciously fruity sip of summer that was perfect alongside the chilangos — poached eggs and wild boar chorizo over a quinoa croquette. So perfect in fact, I had a second glass.
Back at home, this weekend was made for sangria. Saturday was gloriously sunny and for once I had the forethought to mix up a new batch on Friday night. While it wasn't the obvious choice to go with our Korean and All-American mixed grill of Daeji Bulgogi burgers, barbecue chicken and grilled asparagus, it sure went down easy.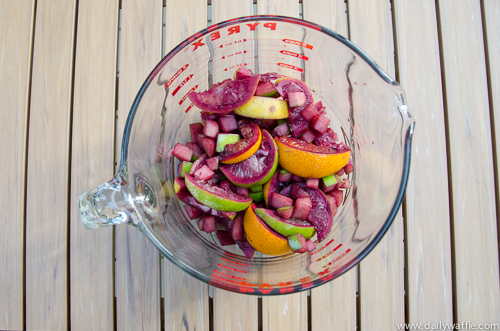 There's not much to the recipe. Chop some fruit, stir everything up, essentially. While Jose Andres' version adds vodka and Cointreau to the mix, the Bon Appetit recipe is simpler and only calls for brandy in addition to the wine. For someone a little gun shy, that made sense.
You'll probably want to double or triple the recipe, depending on how many you're serving. A 750-ml bottle of wine has never seemed so small!  Get yourself some decent Rioja and brandy. It doesn't have to be expensive, but don't cheap out. We're not looking for a college repeat. Go for the middle. Use fresh squeezed orange juice.  Let it mojinate for at least 24 hours to really let the flavors mingle. Then take a sip, smack your lips and say, "Ahhhhh."