Rhubarb is perpetually stuck in the Friend Zone, like that friend you've known your whole life, but you just didn't see him that way.  Every spring, rhubarb kicks off farmers market season in the Pacific Northwest, but all you have eyes for are the asparagus and peas. Last week at the market, I snapped a few photos of rhubarb but otherwise passed it by. Then, with a nudge from Hannah's rhubarb cranachan (think oaty rhubarb jam parfait) over at Blue Kale Road, I put this crazy red celery-looking fruit on the shopping list.
We even have what I think is a rogue rhubarb plant growing in our yard, right between two rhodies.  I'm not sure how it got there, and I haven't been brave enough to try it.  So, if you want to bring along a chaperone for your first date with rhubarb, I get it. (Ok, I don't know how far I can take this simile). The most obvious buddy for rhubarb is good ol' strawberries. So if you're not sure you're a rhubarb fan and you're leery of committing to it on its own, strawberries will help balance some of rhubarb's tartness. This Strawberry Rhubarb Crumble Crisp is a good place to start.
The Kitchn provides a good general starting point across the board for a crumble, crisp or even cobbler. It's not stingy on the topping, and I added oats for a cross between a crumble and crisp.  Taking a cue from Hannah, I swapped in honey for half the sugar in the Kitchn's recipe. Let the fruit macerate in the sugar/honey/cornstarch for about 15 minutes so that you've got some juice when you pour it into the baking dish. Using an 11 x 7, 2-quart baking dish, you get a jammy, sweet fruit filling with a nice thick layer of crumble on top. Serve with a scoop of vanilla ice cream and you've got the beginning of what might be a new love affair with rhubarb.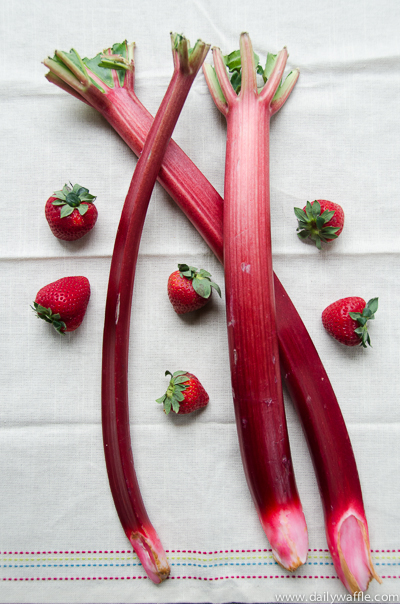 Falling in Love with Rhubarb and Strawberry Crumble Crisp
Print Recipe
Ingredients
1 16 oz. box strawberries, rinsed, hulled and cut into halves or thirds

3 stalks of rhubarb (a little over 1 lb)., cut into 1 inch pieces

1/2 c. honey

1/2 c. granulated sugar

2 t. cornstarch

1/2 t. ginger

For the Topping:

1 c. all-purpose flour

½ c. rolled oats

1/2 c. brown sugar, firmly packed

1 t. baking powder

1/2 t. cinnamon

1/4 t. salt

8 T. (1 stick) unsalted butter, softened

Vanilla ice cream, to serve
Instructions
1
Preheat the oven to 375F.
2
In a medium bowl, combine the rhubarb, strawberries, honey, sugar and cornstarch and let the fruit macerate for 15 minutes.
3
In another medium bowl, whisk together the flour, oats, brown sugar, baking powder, cinnamon and salt. Cut in the butter with a pastry cutter or your fingers until it creates a coarse, uniform topping. You don't want chunks of butter.
4
Pour the fruit mixture into a 11x7 baking dish and top with the crumble topping. It will seem like too much topping, but if you want it nice and thick, add it all.
5
Bake for 25-30 minutes or until the fruit mixture is bubbling and the topping is firm.
6
Serve warm or at room temperature with vanilla ice cream.