This week kicked my butt. I knew it was coming, but it still owned me. Knowing the days would be long, before work I was either making couscous and farro and prepping vegetables or getting my workout in. Two dinners this week were salads — whipped together variations of chicken, spinach, some grain or other, and whatever citrus or dried fruit was in the pantry. One night I managed to sauté some chicken and roast cauliflower, but by Thursday, I had no ideas, so Wolf brought home a Costco pizza.  Then Friday, I was on my own.  With no grocery shopping happening either, a can of black beans saved me. I made Can You Stay for Dinner's black bean quinoa burgers.  It turned out to be the genesis of something bigger – a chicken, black bean and quinoa bake.
It's supposed to be Spring, but after light snow Friday followed by hail, then sunbreaks, I don't think anyone has fully committed to peas and pastels. We're in the shoulder season for casseroles. Good thing this one works hot or cold. So if you've got a killer week ahead of you, dinner and lunch and maybe even lunch again is already made.
You can't help but feel virtuous when there's this much veg at the heart of a dish — greens, onions, peppers, sweet potato, corn.  And that corn, well, that corn was cut from the cob in August and actually made it back out of our freezer. It's a miracle.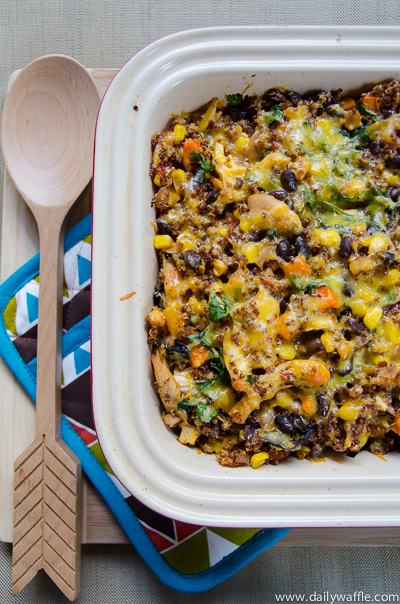 Perhaps because of its Peruvian roots, something about quinoa calls for Latin flavors.  The burgers use a good dose of cumin; the quinoa casserole I saw in the to-go section at PCC had chiles and cilantro in it; and this loveliness from Savor the Rainbow, the starting point for this recipe, uses a jar of salsa as a shorthand.
You can skip the chicken if you like and keep this vegetarian. Adapt it to whatever veg you have in the fridge. I used a small bunch of rainbow chard, stems and all, from last week's CSA box, and added a yellow pepper to the onion and sweet potato in Min's recipe.  Taking a cue from the burgers, I added a tablespoon of cumin and a bit of cilantro as well.
Ingredients
1 c. red quinoa

1 3/4 c. water

2 cooked boneless skinless chicken breast halves, shredded

1 T. olive oil

1 small bunch of rainbow chard, rinsed, stemmed and cut into 1 in. ribbons. (dice the stems as well, if tender)

1 garlic clove, sliced

1/2 a large red onion, diced

1 yellow bell pepper, diced

1 c. frozen corn, thawed

1 c. sweet potato, peeled and diced

1/2 c. Rotel tomatoes w/ habaneros "hot"

1 T. tomato paste

1 15 oz. can black beans, drained and rinsed

1 T. ground cumin

2 T. cilantro, chopped

salt & pepper

non-stick vegetable spray
Instructions
1
Preheat oven to 375F. Spray a 2 1/2 quart baking dish with non-stick vegetable spray and set aside.
2
In a sauce pan, combine the quinoa and water. Bring to a boil, then reduce heat and simmer on low for 15-20 minutes until the water is absorbed.
3
Meanwhile, heat a skillet over medium heat. Add olive oil.
4
Saute the onion until its starting to get translucent and add the chard and garlic. Cook until the chard just begins to wilt, turning frequently. Add the bell pepper, corn, and sweet potato and cook for 7-9 minutes until the vegetables start to become tender. There shouldn't be much liquid in the bottom of the pan.
5
Add the Rotel and tomato paste and cook for 3-4 minutes more.
6
In a large bowl, combine the quinoa, chicken, vegetables, black beans, cumin and cilantro. Season with salt and pepper. Pour the mixture into the baking dish and top with cheddar cheese.
7
Bake for 20-25 minutes until the cheese is melted.