When it comes to food and Easter, the thing I look forward to most isn't a Cadbury egg (never liked 'em) or the Reese's eggs w/ twice the peanut butter you get in a regular peanut butter cup (stock up now!). The thing I wait all year (er, 3 or 4 months) for is a batch of Hot Cross Buns.
And what is it that makes a Hot Cross Bun so deliciously dunkable in your morning cup of joe? The candied and dried fruit.  But have you noticed candied orange and lemon peel can cost an arm and a leg?  Last year I bought tiny tubs of both for $8.50 a piece! Granted, you don't use a huge amount in the buns, but there's no reason to drop that kind of dough. Making candied citrus peel is dead simple.
If you've got a neighbor who keeps dropping off bags of lemons on your doorstep (I'm so jealous!) or if you've just been going through as much citrus as we have, you've got plenty of peels to candy.
The citrus you choose doesn't much matter.  I used 3-4 blood oranges (and a couple of Eureka lemons) because that's what I had around. The red blush will leech out of the skins, but the color is neither here nor there. For Hot Cross Buns, a combo orange and lemon is key, as are golden raisins and candied ginger.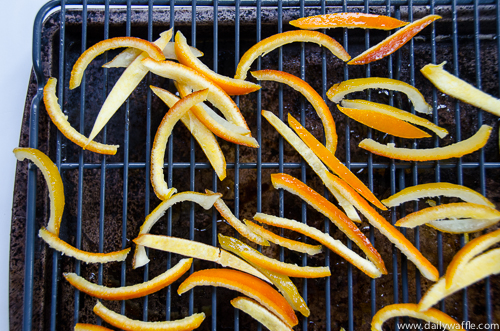 There are two ways to candy peels, the easy way and the 3-day way.  I chose the simpler of the two recipes I found on Epicurious. The most important thing is getting rid of the bitterness in the peel. You'll bring the peels to a boil and drain them – four times. Don't cheat and only do two rounds – the peels will be bitter. No really, they will.
Once dunked four times over and then cooked in a double-strength simple syrup, you'll dry them on a rack for eight hours and then toss them in sugar. From there, you can make your Hot Cross Buns or throw them into some biscotti. If you leave them out for longer than eight hours, they'll continue to dry and get a little chewier. Still, after putting them in airtight container, you might find the sugar virtually absorbed. No matter, just give them another toss in sugar before using them, if you like. They'll keep in the fridge for a month. Hoppy Easter!