Every Rom-Com, every book, every platitude says when you meet "The One," you'll just know.  We didn't lock eyes in a crowded airport terminal or pass each other on a train platform or have an awkward conversation about the weather in biology lab.  We met on the Internet.  And it's like….magic. I have fallen completely, utterly and irrevocably in love. We are M-F-E-O (made for each other). My husband? What?  No, I met him in a bar.  I'm talking about the Baking Steel.
For years I've used a baking stone  to make pizza at home. I fumbled around at 425F for awhile, then discovered I should probably be cranking up the oven as high as it would go. The stone works fine, better than a sheet pan, that's for sure.  You can get some decent color on the crust. But if that baking stone is my Walter, the Baking Steel is my Sam.  (Stick with me people, you've seen Sleepless in Seattle, right?)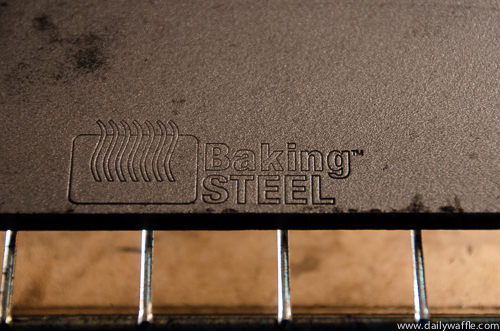 The Baking Steel is a whole different ball game. After reading Kenji's review on Serious Eats, the Baking Steel went on my Christmas list.  The idea is almost too intuitive. Steel conducts and holds an amazing amount of heat, so duh, it'll compensate for the comparatively low temperatures of a home oven. From the first pie I made – a whole wheat crust I'm still working on, it was game over for the pizza stone.  And once I used Kenji's New York Style crust recipe, I was a goner.  Hook, line and sinker.
Roll the dough out thinly and once baked, it holds its shape, no floppy ends here.  Let the dough cold ferment for a few days in the fridge and you'll get even better air bubble development and a nice chew. I kid you not, this thing is a rock star.  It pays for itself in 3 large pizzas or so (the good place here runs about $25 a pizza, it ain't cheap).
Over the weekend, on dough on just 24 hours in the fridge, we made a garlicky spinach pizza a la Tomasso's in San Francisco. It's an Italian-American joint in the midst of a bunch of strip clubs in North Beach, and they serve a damn good pizza spinaci. In my version, the sauce is crushed tomatoes sprinkled with dried oregano and salt and it's topped with part skim mozzarella.  Fresh spinach is tossed with super thin slices of garlic and goes on just after the pizza comes out of the oven. Grate parmesan cheese over the top and you hardly need a side salad.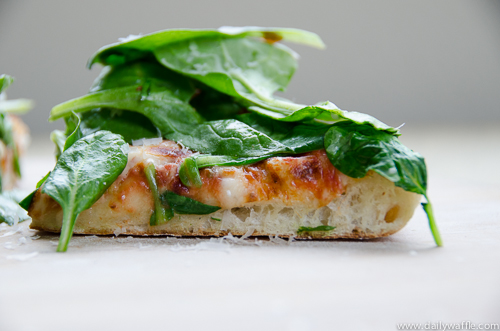 This pie is a personal size done on dough fermented for 4 days in the fridge. I was in a rush, so it didn't rest on the counter as long as it probably should have. You can see a little bit of the development in the cross-section. These little guys certainly puffed up more than the large pie we made on Saturday with just one day's rise.
Now with Valentine's Day this week, I tried to cut out little pepperoni hearts, but didn't have a cookie cutter small enough or sharp enough. So instead, with my usual amazing rolling out pizza dough skills I managed to make this pizza valentine. Roll out a circle, create a little cleavage at the top and pull down on the bottom.  Take one more pass at it with the rolling pin, top as desired and then pop it in the oven.  It looks a little more heart-like from the flip-side.  And dig that char on the bottom!
All those platitudes also say you tell those nearest and dearest to you that you love them, before you don't have the chance.  So, Baking Steel, I love you.  Thank you, Andris Lagsdin for creating it, and thanks to the 470+ people who funded his Kickstarter making it possible for me to make pretty damn good pizza at home.  Happy Valentine's Day.