Devising a dessert 7-layer dip is no easy feat.  Earlier this week in the midst of all the chicken wing and pulled pork sandwich recipes, I wondered out loud on Twitter, "Why have I seen no 7-layer dip with chocolate pudding, caramel, cool whip and M&M's (ok, you figure out the other 3)."  Rebekah at PDXFoodLove chimed in w/ "Pretzels? Samoas? Nutella?" And an idea so evil and yet so delicious was born.
After I consulted with the #Kitchenparty crew at Bakespace.com last Thursday night on whether this was good or bad to start with, Rebekah put it up for a challenge, so we're both making a dessert 7-layer dip today so you'll have two options. Rebekah's creation is here.  I haven't even seen it yet, since we're going live at the same time!  I only wish we'd thought of this sooner, so you wouldn't be reading this the night before the Super Bowl.
The Super Bowl ranks as the second biggest eating day in the US, second only to Thanksgiving…or so I heard somewhere earlier this week.  On this most American of holidays (oh, that's right, they still haven't declared the Super Bowl (or the day after) a holiday, it's a crime) this dessert 7-layer dip keeps it all-American, er, well, except for the Nutella. 85.7% percent American then.
Top to bottom:
Caramel sauce
Cream Cheese Whipped Cream
Strawberries
Nutella
Banana
Pretzel and Saltine crumbs
Chocolate Pudding
So let's look at this a second, you've effectively got 3 sets of layers going on here…an old school chocolate pudding pie; a banana nutella (crepe); and a strawberries and cream/cream cheese (cake) kind of thing.  Are you sold yet?
The key for me was to keep it dippable.  It's easy to start straying into parfait and trifle territory with chunks of brownie or cake. No shame in that game, I'm just trying to do a dip here.   I also stayed away from the booze in this one to make it kid-friendly, though I did soak a Nilla wafer with a little whiskey to see what would happen.  Maybe next time. 🙂
I'm not a big fan of instant pudding, so I made the chocolate pudding using my standard recipe (from Everyday Food) minus the egg yolks. I also added 1 t. of espresso powder.  You'll need to give it time to chill (at least a few hours, or preferably overnight) so if you're in a time crunch, grab the instant Jell-o box at the store go with that.
The rest is just layering.  But there is a troublemaker here – the Nutella layer. You'll need to warm it slightly in the microwave, which they tell you not to do, but it works just fine if you heat it in 10 second increments and stir between zaps. It'll still be thick, but at least you'll get a reasonably even layer down.
So layer, layer, layer, then we get to the cream cheese whipped cream, which is brilliant.  Not only do you get a hint of that cream cheese tang with the softness of whipped cream, it also helps keep the cream stable. Bonus! You can thank the Kitchn for that tip.
Drizzle on the caramel sauce and there you go – chocolate pie meets banana nutella crepe meets strawberries and cream(cheesecake) – in 7 deliciously dippable layers.  Tomorrow, I'll be rooting for the 'Niners.  Enjoy the game (or the commercials)!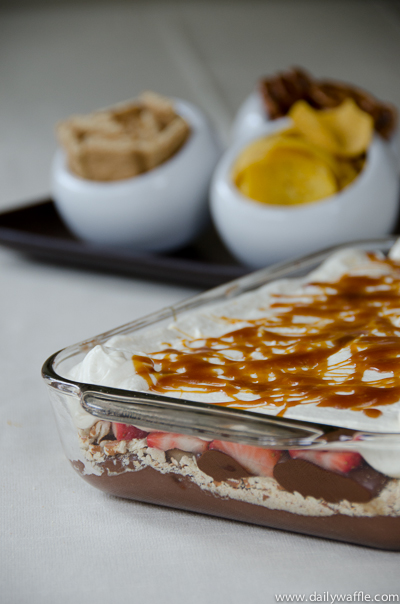 Ingredients
2 1/2 c. chocolate pudding

1 c. pretzel and saltine crumbs (~ 1 c. mini pretzel twists, 12 saltines)

3/4 to 1 c. Nutella, softened slightly in the microwave in 10 second increments until easily spreadable

10 smallish strawberries, sliced (or chopped)

1 large banana, sliced (or chopped)

2 c. whipping cream

1 8 oz. package cream cheese, at room temperature

3 T. powdered sugar

2 t. vanilla extract

2-3 T. caramel sauce, heated slightly in the microwave in 10-second increments until drizzle-able.
Instructions
1
In a small bowl, beat the cream cheese until it's light and aerated. In another bowl, using a hand mixer or your Kitchen Aid, whip the cream until it forms soft peaks. Add the cream cheese to the whipped cream and whip until it forms firm peaks. Fold in the powdered sugar and vanilla. Refrigerate until ready to use.
2
Spread the chocolate pudding in the bottom of an 11x7 rectangular glass dish. Layer on pretzel/saltine crumbs, banana, nutella, strawberries and cream cheese whipped cream. Drizzle on the caramel sauce.
3
Serve with corn chips, pretzels, graham crackers, Nilla wafers or other dippers of your choosing.