You know that thing when you discover something, whether it's a song or a TV show or even just a color, you see it everywhere, where once you probably wouldn't have given it a second thought? I'm going through that right now with harissa – the Tunisian hot sauce/red pepper paste.
Hannah at Blue Kale Road, who's cooking along as part of Tasting Jerusalem (ya heard about that yet?), was tweeting about the harissa recipe in the book and I thought, yeah, I'll have a go at that. And then, it was everywhere.  I was at Williams-Sonoma last weekend and there was a harissa spice mix in a jar. Then, I stumbled on this spicy carrot soup with harissa paste in a tube, and then Feasting at Home posted this Harissa-spiced chicken.  Harissa is everywhere and I can't unsee it!  It's not a bad thing, mind you.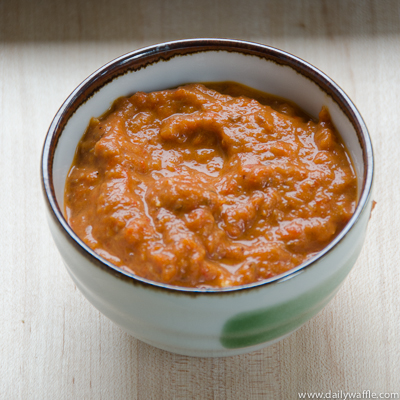 Made with roasted red bell peppers, the flavors in the Jerusalem harissa aren't as intense (or as spicy) as pure chile-based recipes. And in fact, even using 4 chile de arbol pods as a sub for the fresh chiles called for in the recipe, it wasn't actually spicy, at least to the palates around here.  Check your chiles and adjust accordingly.
If you haven't gotten your hands on the Jerusalem cookbook yet, this Ottolenghi harissa recipe in the Guardian is pretty much it.
Marinate 4-6 drumsticks overnight in about 1/2 cup of harissa, and if your grill hasn't been decommissioned for the winter, fire it up and grill them rather than roasting them in the oven.  You'll get a nice char without having to use the broiler, like I did.  Otherwise, put them on a rack on a baking sheet lined with foil and bake them in a 400F oven for 30-40 minutes. Turn and baste the drumsticks with extra harissa half way through and then tork it up to 500 and broil them for a little color.
I threw a couple of boneless skinless chicken breasts in as well (Wolf's preferred cut of chicken) and baked them for a little less, maybe 20-30 minutes and used a thermometer to make sure they hit 165F. Voila! Harissa-marinated Chicken.