Anything shaped in a patty has a homey feel to it, doesn't it? A hamburger, Salisbury steak, mashed potato cakes, they're either home food, or diner fare. And for the most part, they're fast.  Mix this and that together, form a disk and fry it up in a hot pan. But the thing is, you don't have to limit your notion of a patty to meat. You can sit down to a delicious dinner in 20-25 minutes if you've got a can of beans (and a reasonably stocked pantry).
This recipe germinated in my mind as a chicken meatball, but my pantry dictated. "Beans," it said. "It will be Great Northern beans." It'll do that on a Wednesday when you don't have time to go the market. And so, Spinach and White Bean Burgers.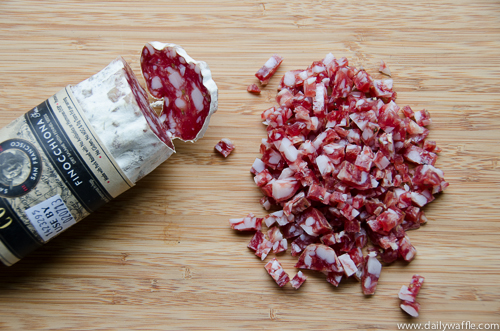 The name sells it a bit short, I'll give you that.  What gives these patties their flavor is some lovely, Columbus Finocchiona salame. Hot on the heels of their win at the Good Food Awards last week, Columbus sent me a sample and the rest is history. Finely diced and mixed with the beans and spinach, it imparts a mellow, meaty pork flavor and brings some needed fat to the equation.
Using meat as a flavoring rather than as the primary on the plate has been a great strategy for us as I've dialed up the beans and split peas in our diet. You don't have to sacrifice taste in the name of nutrition, it's a good thing, especially when it comes to split pea soup.
Texturally, these burgers are on the softer side because of the sheer amount of spinach and the creaminess of the beans.  If you want a firmer patty, add another ¼ cup of  bread crumbs, but keep in mind, just like a crab cake, you don't want to end up with more bread than beans.
And on the spinach, you really want it as dry as you can get it. A tip? Put the defrosted spinach in a clean dish towel and wring it out. Really give it a good squeeze. 
These burgers are so flavorful they don't need a sauce. Throw together a salad and dinner is served.
Ingredients
1 15 oz. can great northern beans, rinsed and drained

1 10 oz. box frozen chopped spinach, defrosted and squeezed dry

½ c. pile grated parmesan

½ c. finocchiona salame, finely diced

¼ c. fine bread crumbs

1 egg, lightly beaten

1 t. fennel seeds, toasted and crushed between your fingers

½ t. kosher salt

1 garlic clove

2 T. olive oil
Instructions
1
Combine all ingredients in a food processor and pulse until finely chopped. It should start to slow down the machine.
2
Heat a skillet over medium heat and add olive oil. Form into 4-6 patties, about ¾-inch thick. Gently place the patties into the pan and brown on both sides, about 4-6 minutes per side.