You're surviving on Pinterest, aren't you? These first few weeks of January are hard. You're back to eating the way you should, getting more exercise, but you're eyeballing that lasagne with the stretchy cheese, living vicariously through images of pizza dip and cream cheese brownies. I see it in your pins! You know what, I'm right there with you.  Yesterday, I wanted a bag of Doritos like nobody's business. And after dinner, I've been finding myself wanting a little something sweet. Not a full blown dessert, just a little something. These little spice cookies fit the January agenda — sweetened mostly with dates and applesauce, spiced with a little cinnamon (and high in fiber!).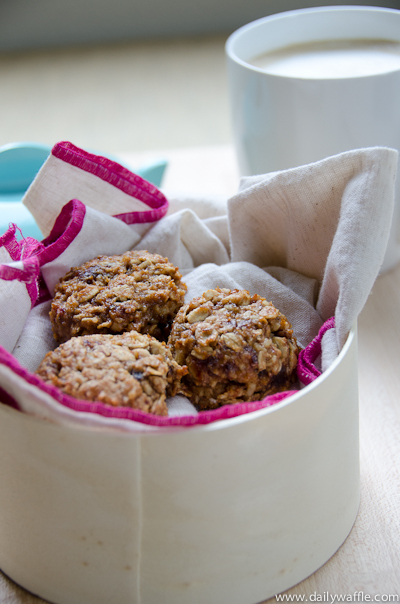 I usually groan when I see cookie recipes with applesauce. For so long it was the ingredient that everyone was trying to use to eliminate butter or oil in baked goods. Not so here, there's still some canola oil and an egg, so these aren't cardboard cookies.
I'm a latecomer to the wonder of dates, aside from their use in date shakes (deeee-licious!), but opted for their sticky sweetness here in place of the prunes called for in the Whole Foods recipe. That's a little too healthy, even for me, even in January.
Ingredients
1 c. dates, pitted and halved

1 c. walnuts

1/2 c. brown sugar

1 egg

1 t. vanilla extract

1/8 t. baking soda

1/4 c. unsweetened applesauce

1/4 c. canola oil

1 c. rolled oats

3/4 c. whole wheat pastry flour

1/2 t. cinnamon

1/2 t. salt
Instructions
1
Preheat the oven to 350F. Line a baking sheet with a silpat or parchment paper.
2
In a food processor, pulse the dates, brown sugar and walnuts until they're finely chopped.
3
In a medium bowl, combine the oats, flour, cinnamon, and salt. Stir in the date mixture. Whisk together the egg, vanilla, applesauce, baking soda and oil and add to the dry ingredients.
4
Using a scoop, drop generous tablespoons of dough onto a cookie sheet. With a damp hand, gently press down each cookie.
5
Bake for 15-20 minutes until the edges are slightly browned. Let cool for 2-3 minutes on the sheet and then transfer to a cooling rack to cool completely.