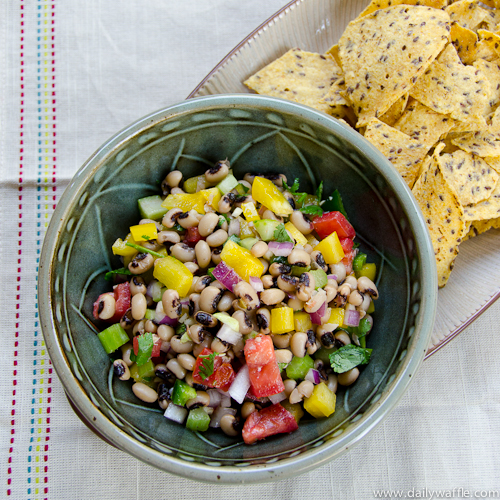 Ever get the feeling we're all making the same 100 recipes in slightly different ways? I make a black bean salad periodically that's just a thrown together mix of black beans, corn, red onion, tomato, sometimes cucumber and avocado with lime, cumin and olive oil, and a little salt and pepper. A few states over, it's got black-eyed peas, jalapeno and cilantro and they call it Cowboy Caviar.  Call it what you want, this salad doubles as a rustic salsa, and it's spot on for those of us getting our vegetable on, for those watching football and for general New Year's good luck.
Although it's black-eyed peas that are called for on New Year's Day, we tend to do red beans and rice with collards instead of Hoppin' John.  I figured a little Cowboy Caviar couldn't hurt to keep the good luck goin' through the first week of the month. Now, if you're from Texas, or you have family in Texas, I won't be telling you anything you don't already know, and you'll probably have had at least 20 different versions of Texas Caviar in your life.
This version is a slight variation of the Texas Caviar in the Homesick Texan cookbook, and it is beyond adaptable. No yellow pepper, but you've got a red? Forgot a cucumber (like me), but you've got celery, go ahead. Want corn? Great.  You used the last lime for your vodka tonic? Ok, some recipes use red wine vinegar.  Whatever your spin on it, this chunky, spicy salad will do well in your lunchbox or alongside the chips and guac for this weekend's Washington showdown – Redskins versus Seahawks (or whichever game you'll be watching).
Ingredients
2 c. cooked black-eyed peas

1 stalk celery, diced

1 Roma tomato, diced

1 yellow bell pepper, diced

¼ c. red onion, finely diced

1 garlic clove, minced

1 jalapeno, finely diced (leave the seeds & veins if you like it spicy)

¼ c. cilantro, roughly chopped

½ t. ground cumin

juice of 1 lime

2 T. olive oil

salt and pepper
Instructions
1
In a large bowl, combine first eight ingredients -- black-eyed peas through cilantro.
2
In a small bowl, whisk together cumin, lime juice and olive oil. Pour over the vegetable mixture and toss until evenly coated. (Ok, if you're lazy, skip the bowl and just drizzle the lime juice, cumin and olive oil over the veg).
3
Season with salt and pepper to taste.
4
Serve as a salad or with tortilla chips as a dip.