If you think back about eating at your grandparents' house, do you associate certain foods with the dishes they were served in?
In my grandma's kitchen, there were two things that were made in a big white Corningware baking dish.  You know the one, square ceramic with a blue cornflower design on the side.  There was the dish I'd like to forget but can't – tuna casserole with a potato chip topping. And there was tamale pie.
Tamale pie has nothing to do with tamales. It's an American creation (some would say bastardization) that even infiltrated the pages of the Orange County Buddhist Church cookbook with two different recipes – one of which has sausage. (If you want to know how people really eat, or used to, read church cookbooks).
Neither of those recipes was my grandma's. Her tamale pie was ground beef-based in a tomatoey, chili powder-spiced sauce. Having just had a test that suggests I have slightly elevated cholesterol (I still don't believe it) I'm dialing back a bit on the red meat.  This tamale pie is made with ground turkey with Alton Brown's Taco Potion #19, and like my grandma's, it's topped with a cornmeal, not cornbread, topping.
Like most casseroles, tamale pie is not pretty or fancy, but it satisfies a craving. A craving to be back at grandma's table, eating the foods of my childhood.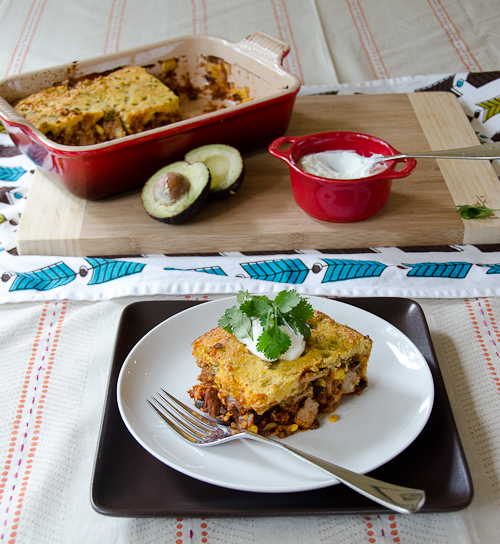 Ingredients
1 1/3 lbs. ground turkey

1 c. chopped onion ( about ½ a large onion)

2 cloves garlic, minced

1 15 oz. can black beans, rinsed and drained

½ batch Taco Potion #19 (minus the cornstarch)

1 1/2 c. tomato sauce

1/2 c. water

¾ c. frozen corn

1 small can sliced olives (optional)

1 c. cornmeal

1 c. milk

2 eggs

1/2 t. salt

1 4 oz. can diced green chiles
Instructions
2
Heat a large skillet over medium-high heat. Brown the ground turkey, breaking it up into chunks.
3
Add the onion and garlic and cook until the onions are translucent.
4
Stir in the tomato sauce, water, spice mixture and black beans.
5
Bring to a boil and reduce heat to low. Simmer the mixture for 5-7 minutes. Add the corn and olives, if using, and cook for another 3-4 minutes.
6
Turn the meat mixture into a 2 qt baking dish.
7
In a medium bowl, whisk together the cornmeal, milk and eggs. Season with 1/2 t. salt. Stir in the green chiles. Pour the cornmeal over the meat mixture. Bake for 45-55 minutes until the edges of the topping are lightly browned.
8
Serve with Greek yogurt (or sour cream).