I'm a convert to Texas chili, having grown up on a chili powder version with kidney beans.  The upside is when we want a meaty chili, nothing but a bowl of red will do, and I'll toast and soak the chiles. When the day calls for a vegetarian version, I can go straight for this chili without losing face and without a drop of geographical guilt.
As we head in to the heart of holiday eating season, this chunky vegetable chili will give you a low-fat, high fiber meal that sacrifices nothing on flavor. You can keep it basic, as written, or amp up the vegetables even further, adding yams, butternut squash, or zucchini (in the summer).
The recipe is adapted from one in the Whole Foods Market Cookbook,
a book I picked up several years ago at the Palo Alto Library monthly book sale.  Unlike a lot of book sales, it wasn't filled with microwave and junior league cookbooks from the 80s.  Always a good source for vintage recipe pamphlets, the Palo Alto sale was where I picked up a two-volume tome of Gourmet magazine recipes from the '60s and a beat up first edition of the Betty Crocker Cook Book.
This chili goes heavy on the chile powder and diversifies by adding New Mexico chile powder and a hit of chipotle powder for more heat and complexity. Simple as it seems, there are two things that set this chili apart. It uses bulghur as a thickener and an added source of fiber, and it turns to soy sauce for salt and its umami-ness.
Perfect for a Meatless Monday, you can get dinner on the table in about an hour and feed a family of four with leftovers for lunch the next day.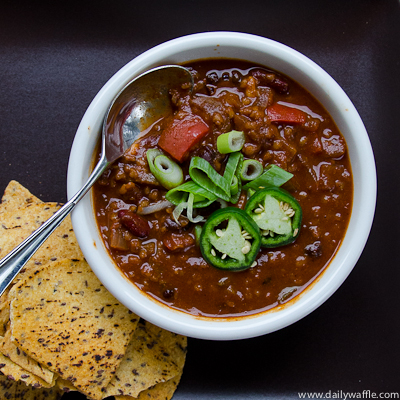 Ingredients
1 T. olive oil

1 medium onion, chopped (~ 1 c.)

2 large carrots, sliced into 1/2 in. disks

2 stalks celery, chopped

1 medium red bell pepper, seeded and chopped

1 yellow bell pepper, seeded and chopped

3 garlic cloves, minced

1 jalapeno pepper, minced

2 T. cumin

3 T. mild chili powder

2 t. New Mexican chile powder

1/2 t. chipotle chile powder

1 3/4 c. tomato puree

1 qt. vegetable stock

4 c. water

1/2 c. bulghur

1 16 oz. can kidney beans, drained and rinsed

1 16 oz. can black beans, drained and rinsed

3 T. soy sauce
Instructions
1
Heat a Dutch oven over medium heat. Add olive oil and saute onion, carrots, celery, peppers, garlic, jalapeno, cumin and mild chili powder for 2-3 minutes.
2
Add the tomato puree, vegetable stock, water, bulghur, and beans.
3
Bring to a boil and reduce heat to simmer for 50 minutes. Mixture should be thickened. Add the soy sauce and adjust spices, adding more cumin and chili powder to taste.
4
Garnish with green onions, cheddar cheese, sour cream, etc. as desired. Serve with tortilla chips.