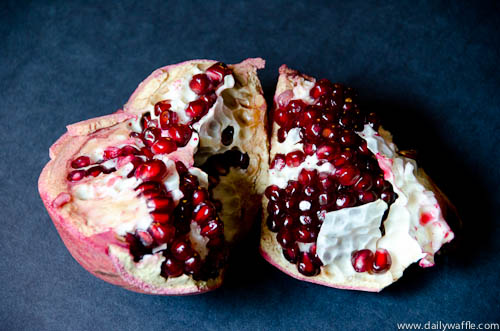 Do you remember the first time you had fresh squeezed orange juice?  That first pulpy sip that made you say, wow, if this is orange juice, what the heck we been drinking at breakfast? That was me on Saturday, with pomegranate juice.  Yeah, I've had pomegranate juice from that bulbous-shaped bottle and it's plenty tasty in a margarita, but my discovery on Saturday was what people across the Mediterreanean, Middle East and Asia have known for eons (almost literally): fresh squeezed pomegranate juice is AMAZING.
I feel like I'm rediscovering pomegranates.  I first had them at my friend Elaine Wu's house — in first grade. We cracked one open and liberated the seeds from their weird beehivey webbing and sucked on the seeds (arils!) and no one made us sit in the bathtub or lean over the sink to do it. I went home and like always when I discover something new, I obsessed! We must have pomegranates, Mom!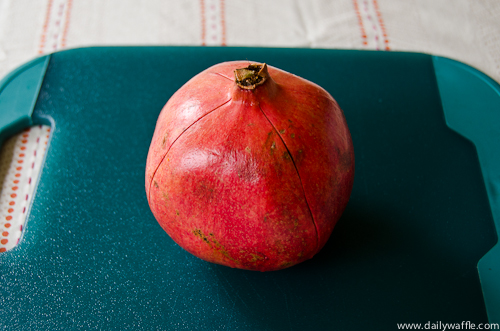 And 30 (cough, cough) I mean, 20 years later,  here I am, cracking more pomegranates. Score the whole thing vertically in 4 or 6 places (should have done six), cut the top off and then start to peel the top back and dig your fingers into one of the cracks. A word to the wise, do this over a bowl in the sink and don't wear white. Seriously.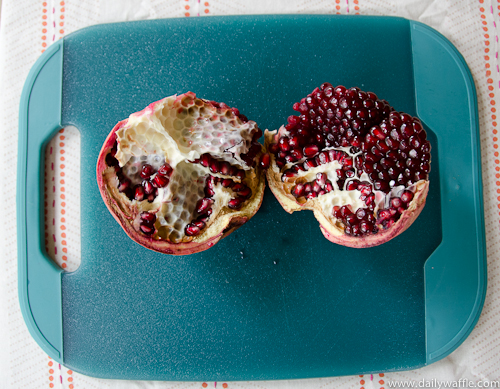 If you've scored it deep enough, it should crack open. I know, I know, you don't want to give up any seeds…so that's why we're cracking it instead of just chopping the thing in half.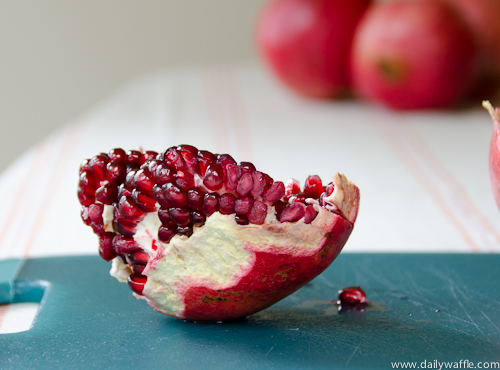 Now, see those cloudy, wrinkly ones, the ones on the right? They're bums. Let them go. If your grenades have taken a little damage on the way to the grocery and they're too close to the skin, that's what you get. Dump them.  Free all those arils, you know, the seeds, and put them in bowl. Be careful along the way to minimize the white pith.  Fill the bowl with water and whatever pithy stuff there is should rise to the top so you can skim it off.
If you're doing salad and just want the arils, you're good to go.  If you want juice, and you don't own a commercial citrus squeezer, keep scrolling.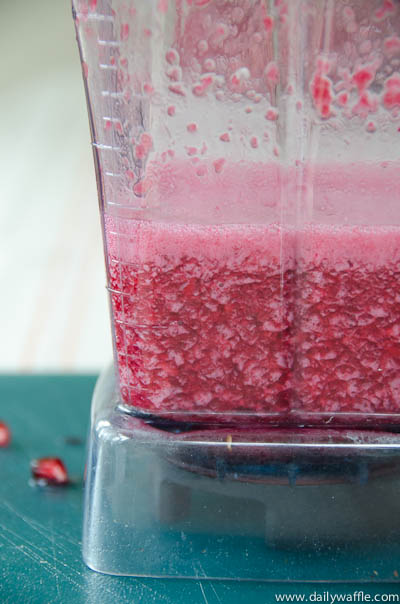 To make juice, put the arils into a blender (1 large pomegranate = about 2 1/2 cups arils) and turn it on for 30 seconds to a minute.  The fibrous part of the seed will remain intact, but you'll put it through a strainer to get rid of it.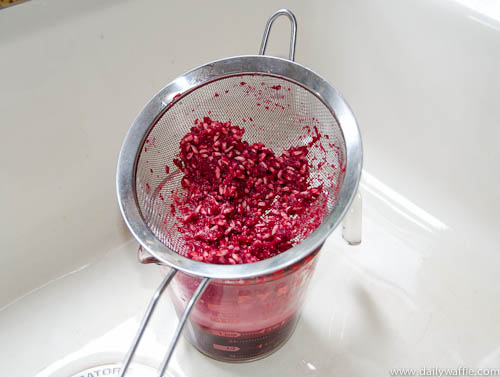 Like I said, put the juice through a strainer to get rid of the bits. Really press it out, you want all the juice. All of it.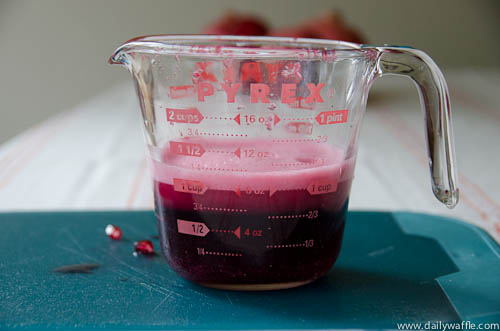 2 1/2 cups arils make about 1 c. of juice. Now you know why a big bottle of pomegranate juice concentrate costs 9 bucks. Is it worth it to go to this trouble? Absolutely.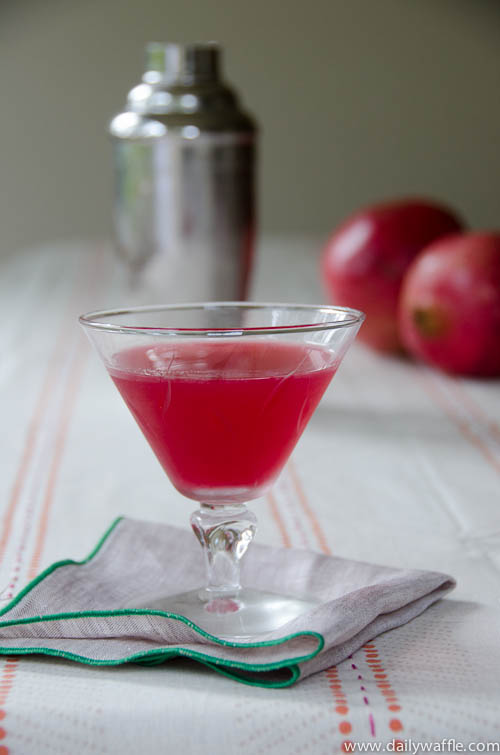 For all your hard work, make yourself a pomegranate cosmo. Just so you know, I tested them, pomegranate beats a cranberry cosmo any day. I'll have more pomegranate later this week — a salad in fact, to balance out the six cosmos you just drank. 🙂
Other ideas for fresh pomegranates here:
Pomegranate and Grapefruit Sparkler (non-alcoholic) – TheKitchn
Make Your Own Grenadine — Serious Eats
Ina Garten's Pomegranate Cosmo — Bon Appetit