Thanksgiving is just two (and a half) weeks away.  I'm sure you're already working on your plan – turkey, stuffing, sweet potatoes, mashed potatoes, salad, green beans, pie.  But have you figured out snacks?  While everyone mills around or watches football before the big meal, don't you need a little something to nosh on? Well, of course there'll be Chex Mix.  What about something a little more special, but still quick to make? These Sun-Dried Tomato Pesto Pinwheels fit the bill.  Pizza dough cinnamon roll people, this one's for you.
The fastest way to make these is just to use a pre-made ball of pizza dough from Trader Joe's, Whole Foods, or wherever you usually get it.  You can also make your own – I've been messing with whole grain pizza dough off and on and I still haven't hit on the perfect recipe. This one had 1/4 c. ground flaxseeds in it.
The pesto is a sun-dried tomato version of Pesto Trapanese from Sicily, which uses tomatoes, almonds, garlic and a pinch of red pepper flakes for flavor. For the pinwheels, you want more of a paste consistency versus a loose sauce, as you need to spread it on the dough.  When I make this to go with pasta, I also add in a little Italian parsley. This will make more pesto than you need, but otherwise, it's such a small amount the food processor would barely be able to chop it.
Of course, when you bake them, they don't keep their gorgeous red color, but they taste fantastic. Sprinkle the tops with a little more parm while baking and you've got a cheesy, tomatoey two-bite appetizer.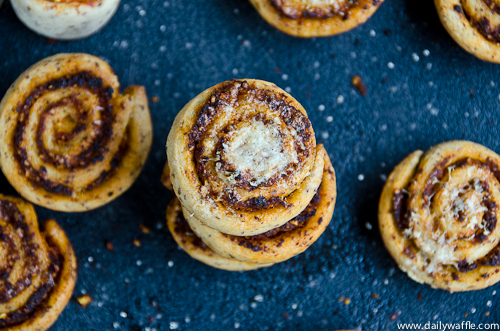 Holiday Appetizers: Sun-dried Tomato Pesto Pinwheels
Print Recipe
Ingredients
1/2 c. julienned sun-dried tomatoes in oil, strained

1/2 c. whole raw almonds

1 1/4 c. grated parmesan cheese, divided

1 large garlic clove

8 basil leaves

juice of 1 lemon

pinch of salt

1/4 to 1/3 c. olive oil

pinch of red pepper flakes

2 balls of pizza dough

Nonstick vegetable spray

Flour for sprinkling your board
Instructions
1
Preheat oven to 425F. Take your dough out of the fridge and let sit at room temperature for 30 minutes.
2
To make the pesto: In a food processor, pulse together sun dried tomatoes, almonds, 1/4 c. cheese, basil and garlic until the nuts and garlic are finely chopped. Add lemon juice, salt, and pepper flakes and pulse 2-3 more times. With the machine running, add the olive oil. Start with a 1/4 c. The pesto should be paste-like in consistency. Add additional oil if necessary.
3
Spray a 12 cup muffin tin with nonstick vegetable spray and set aside.
4
On a lightly floured board, roll out the dough into a 12-inch rectangle. Spread 1/2 the pesto evenly across the dough all the way to the edges. Sprinkle with 1/2 c. parmesan cheese, saving a tablespoon or two if you want to sprinkle the tops while baking. Repeat with the second dough ball.
5
Roll tightly into a log, taking care toward the end as it can start to gap. Cut the log into 1-inch wide pieces. Place each disk into the muffin tin and bake for 15-18 minutes. If you're topping the pinwheels with a little extra cheese, sprinkle them and continue baking when you've got 5 minutes remaining on the clock.