I just can't seem to get on the pumpkin bandwagon this year.  Everywhere you look, things have been pumpkin-ized. It's not new, Starbucks has done a pumpkin spice latte for years, I can remember 31 Flavors doing a pumpkin pie ice cream when I was a kid,  but I must be spending too much time in the aisles at Trader Joe's, because I already have pumpkin fatigue.   Pumpkin spice chai, pumpkin bread, pumpkin pancake and waffle mix, pumpkin macarons, pumpkin yogurt, pumpkin cream cheese. Pumpkin, pumpkin, pumpkin (Marsha, Marsha, Marsha)! And I know when you saw these muffins, you thought pumpkin, right? Nope.  Sweet potato.  Chipotle and cinnamon-scented sweet potato corn muffins.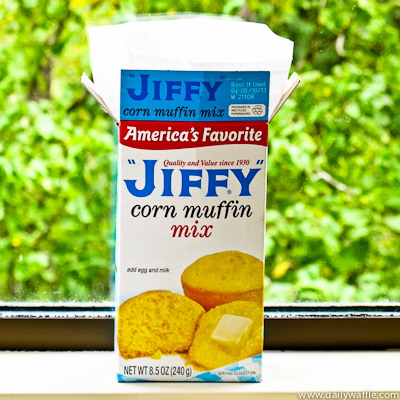 And here's the shortcut that's gonna make these a snap — the good ol' Jiffy box.  After being home for the weekend during my freshman year in college, I'd bring back a bag of Jiffy cornbread muffins to eat for breakfast. It was a taste of home for about 50 cents. These days, I regularly doctor up the mix to go with chili, adding yogurt and sometimes minced jalapeno, but today we're taking this pantry staple even further with a couple of shakes from the spice cabinet, some buttermilk and a little sweet potato puree.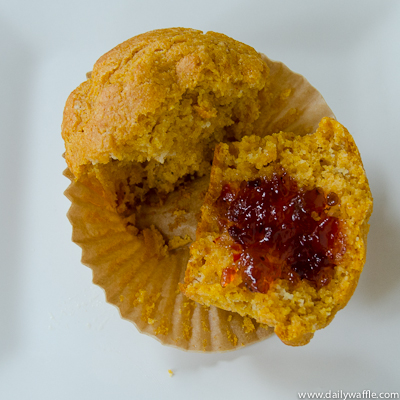 You could bake up a yam and mash it yourself, but I like the super smooth texture of the canned here. The overall effect of the spices is subtle — the chipotle adds a hint of smokiness, the cinnamon a little sweetness. I kept it light, knowing I intended to add a schmear of chipotle jam. Want to keep it a little closer to sweet potato casserole? Add a little nutmeg, clove and maybe even a little allspice.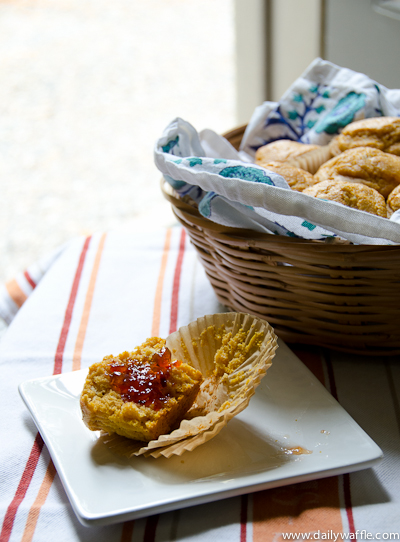 Ingredients
1 box Jiffy corn muffin mix

1/2 t. ground cinnamon

1/2 t. chipotle chile powder

1/3 c. buttermilk

1 egg, lightly beaten

1/3 c. + 2 T. canned sweet potato pure
Instructions
1
Preheat oven to 400F. Line a 12-cup muffin tin with 6 paper liners and set aside.
2
In a medium bowl, whisk together corn muffin mix, cinnamon and chile powder. It should still be lumpy.
3
In a small bowl combine egg, buttermilk and sweet potato puree. Mix wet ingredients into dry until just combined. Let sit for 5 minutes. Fill the muffin cups 3/4 full and bake for 15-20 minutes until a toothpick inserted in the center comes out clean.
4
Let cool for 3-4 minutes in the pan before moving the muffins to a cooling rack to cool completely.