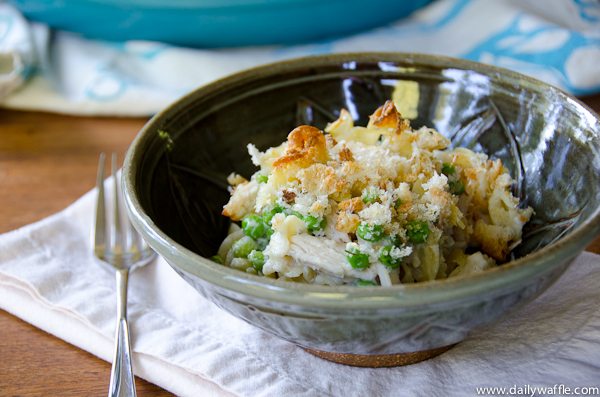 This week, fall has slammed into us full force. The rain came in over the weekend, and then last night, it was stormy enough that we lost power for a few hours in the middle of the night.  It's a good thing, the yard is in desperate need of a soaking, and with that soaking, all we want is comfort food. I'm not alone in this, since everywhere I look lately, all I see are pot pies and soups.  I'm not usually one to jump the gun on holidays, but this recipe originated with Thanksgiving turkey leftovers and has migrated to chicken during the rest of the year.  Named for an opera star in the early 20th century, so the story goes, you'll be singing for your supper when this is on the menu. Ladies and gents, I give you, Chicken Tetrazzini!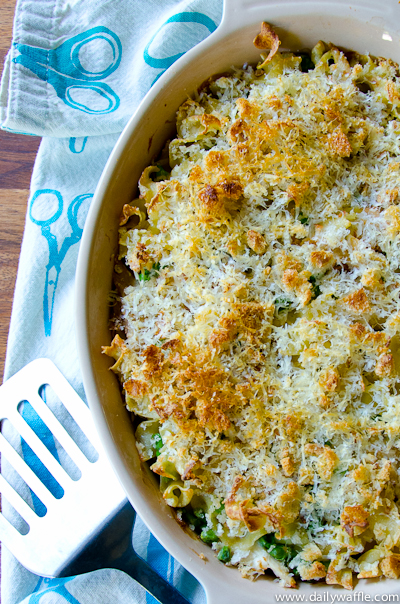 Tetrazzini brings together the best parts of mac and cheese and pot pie without feeling like a gut bomb. Creamy sauce, chewy noodles, a little bit of protein and sweet peas. And it's gotta be wide egg (or not egg) noodles. No spaghetti.
The recipe is built for leftovers and serves just four, but if you're wanting more or serving a bigger crowd, double it.   I ended up making it twice last week, that's the beauty of the Costco chicken, though it defeats the purpose of a casserole in the first place. But when you haven't had tetrazzini for awhile, having it for lunch and dinner a couple of days in a row is no problem whatsoever.
Here I've kept it light, but with turkey, I add mushrooms.  Quarter and saute them before you make the bechamel and you're off to the races. It gives a little extra heft and flavor to the dish, but is just fine without them.  I do think its best with homemade bread crumbs, you get the extra craggy top, but if the superfine store bought is all you've got, that'll work, too. Just stick close by the oven when you're baking, they'll brown up fast(er).
Ingredients
2 c. shredded cooked chicken (or turkey at Thanksgiving)

8 oz. (about 1/2 a bag) wide egg noodles, cooked 1 minute less than pkg. directions

4 T. butter

3 T. all purpose flour

1 1/2 c. chicken broth

1/4 t. dried thyme

1/2 c. frozen peas, thawed

1/2 c. half & half

1/2 c. homemade bread crumbs (1/4 c. if using superfine store bought)

1/4 c. parmesan cheese

salt & pepper
Instructions
1
Preheat the oven to 400F.
2
Cook the noodles 1 minute less than directed by the package, drain and pour into a 1 3/4 quart baking dish. Add the shredded chicken (or turkey) and set aside.
3
In a saucepan, melt the butter over low heat. Whisk in the flour and cook 2-3 minutes. Stir in the chicken broth. Raise the heat to medium and bring to a boil, whisking constantly. Add in thyme. Reduce heat and simmer until thickened, 5-7 minutes. Stir in the half and half and peas and cook until warmed through, 1-2 minutes. Taste and season with salt and pepper to taste. It'll depend largely on the saltiness of your chicken and chicken broth. Pour the sauce mixture over the noodles and chicken in an even layer.
4
Top with bread crumbs and parmesan cheese and bake for 15-20 minutes until bubbly. If the top hasn't browned, turn the heat to broil until golden brown. Don't walk away, it happens faster than you think.
5
NOTE: You can also add crimini or button mushrooms, if you like. Saute them before making the bechamel sauce, then cook as directed.
Notes
Nine months out of the year, this tetrazzini takes advantage of a Costco rotisserie chicken, but it originates with Thanksgiving leftovers and is a great way to mix it up after Turkey day.