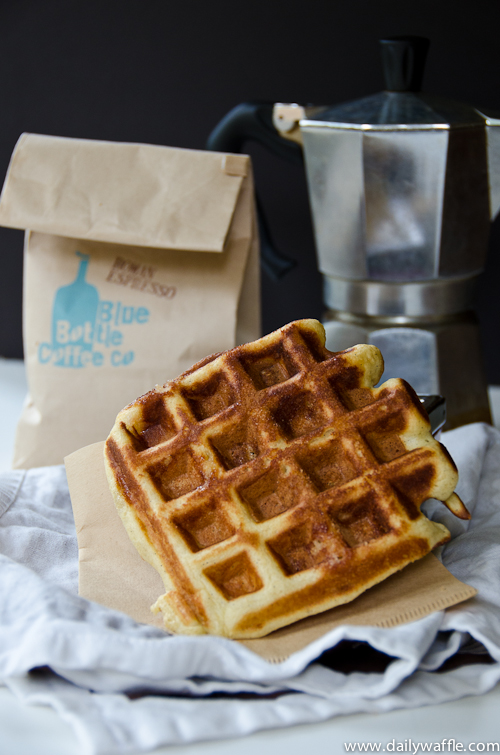 Waffles don't show up too often here, despite the blog being called DailyWaffle. Around our house, they get inhaled before they can be captured with anything other than iPhone.  So this is big, and if we're going big, we're not bringing your average Sunday morning waffles. These are Blue Bottle liege waffles – the ones served at the SF Ferry Building. But as we found out last weekend, their waffle iron has been on the fritz, so there were no waffles to be had. I had to take matters into my own hands, and luckily, the recipe is now available in the just published, "Blue Bottle Craft of Coffee: Growing, Roasting, and Drinking, with Recipes
.
A fairly extensive preview of the book, including the Liege Waffle recipe, is available on Scribd.  Scroll down to page 154.
That I love Blue Bottle's coffee is well-documented.  But what's the big deal about these waffles? They're to the max (like, totally!) in every dimension – extra flavor, extra crunch, extra easy to eat on-the-go. We're talking yeast waffles with pearl sugar, five eggs for six waffle squares, a stick of butter, and a little extra sugar for carmelization.  Needless to say, no syrup needed here.
When you get a recipe like this, it's easy to want to cut corners and make changes based on what you've got in the pantry, but it's worth it to make sure you've got a vanilla bean versus just extract, though they say you can substitute it.  The pearl sugar, I picked up at Whole Foods, is a must for a liege waffle.  I will admit, I did use whole wheat pastry flour in place of the regular the recipe calls for, but that's it. It was by the book for the rest.
And the truth of it is, yes, you do need to make the batter ahead since the yeast needs time to work its mojo, but all that means is, you mix it up the night before and waffles-are-for weekends-only no more!  Pour the batter into your waffle iron and 4-5 minutes later you can slip that waffle into a coffee filter as they do at Blue Bottle, and eat it on the way to work.     It's almost too easy….dangerously easy.
As for what coffee to have with these waffles? Blue Bottle's Roman Espresso remains my favorite.  If you're interested in meeting authors James and Caitlin Freeman in person, they're are on tour promoting the book with three dates this week in NYC.
Finally, on a blog related noted, I gave in and started a Facebook page for DailyWaffle. Head on over and give us a like, if you like.
Ingredients
1 1/4 t. active dry yeast

1/4 c. lukewarm water

1/2 c. unsalted butter

3/4 c. pastry flour

2/3 c. all-purpose flour

1 T. granulated sugar, plus more for sprinkling

1/2 t. sea salt

5 eggs, at room temperature

1 vanilla bean (or 1 t. vanilla extract)

3 T. pearl sugar
Instructions
1
Combine yeast and water in a small bowl and let sit for 5 minutes.
2
In a small bowl, melt the butter and let cool to about 115F.
3
In a large bowl, sift together the flours and granulated sugar. Stir in the sea salt.
4
Whisk together the eggs and vanilla bean pulp (or vanilla extract, if using) and whisk until well blended. Add the egg mixture, yeast and melted butter to the flour mixture. Whisk until smooth.
5
Cover the batter with plastic wrap and let rest until doubled in size, about 1 hour.
6
Gently stir in the pearl sugar and let rest for 15 minutes.
7
Meanwhile, heat a Belgian waffle iron to medium-high.
8
For best shaping, make the waffles two at a time. Scoop 1/2 to 3/4 c. of the batter into opposite quadrants of the waffle iron. Sprinkle the tops with granulated sugar. Cook until the indicator light goes off. Waffles should be crisp and browned. Serve immediately.
Notes
Adapted from the Blue Bottle Craft of Coffee.