First Day of Fall: Poblano Corn Chowder
It finally rained on Saturday morning, just briefly, but with a clap of thunder that scared the bejeezus out of H. and sent her into our shower and then downstairs to her safe spot. In California it was fireworks, here it's the occasional thunderstorm. Poor ol' girl. Skies were still overcast later in the morning, so I slipped on my socks and wellies and headed for the farmers market. Fall had arrived.
At our market, acorn and butternut squash is just coming in, peaches are thinning out, replaced by a new crop of apples. I'm pretending not to see them among the piles and piles of peppers and chiles.  And so, this chowder. Poblano corn chowder.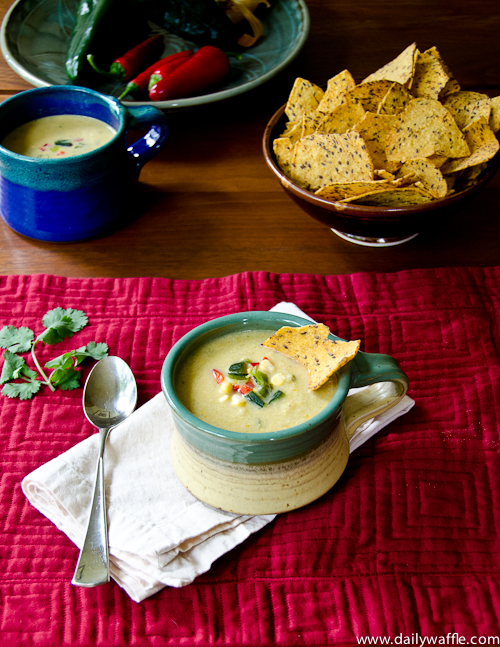 I did Bittman's simple corn chowder earlier in the summer when it was all about the corn. This one is more focused on the poblano and has a toe-hold in fall. While it's not vegetarian (it easily could be), it's thickened by…wait for it…that year-round workhorse, cauliflower.
That being the case, the texture here is rustic, with the nubbly-ness of cauliflower. It has a little more of a stick-to-your-ribs quality than a summer chowder, without relying on a roux and a vat of cream. (I'll save that for the winter). And, it lets me work a little more veg into the routine.
You're blah on cauliflower? If there's one thing I know about cauliflower, it's that it's high in vitamin K (thanks, 8th grade Home Ec), but I forget why we need it (c'mon, it was 8th grade).  It's true, cauliflower is plain, but that's exactly what makes it ideal for this soup. It's not only a vehicle for getting cheese sauce into your craw. Ever try it roasted with Indian spices?  Fantastic. Use it to stretch mac and cheese? Not half bad.  In this soup? Delicious.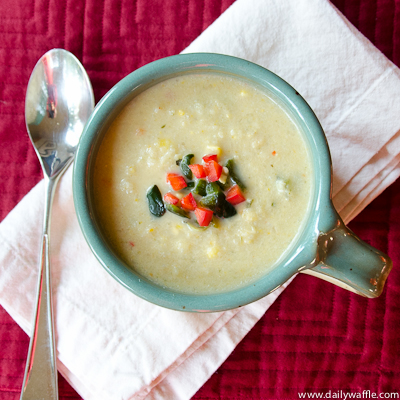 Poblano Corn Chowder
Author:
Michelle | DailyWaffle
Ingredients
3 poblano chiles
2 T. olive oil
1 carrot, diced
2 small (or 1 large) celery stalks, diced
½ a large onion, diced (about 1 cup)
1 head of cauliflower, chopped
1 ear of corn, cut from the cob
1 small red bell pepper, diced
1 32 oz. box chicken broth
2 c. water, as needed
2 t. cumin (+ more to taste)
½ c. half and half
salt and pepper
Instructions
Roast the poblanos in the broiler, turning with tongs until charred on all sides. Put the roasted poblanos in a bowl and cover with plastic wrap to steam, about 10 minutes. Remove the skins, seeds and veins and dice finely. Set aside 2 T. for garnish.
Heat a Dutch oven over medium heat. Add the olive oil and sweat the carrot, celery, red bell pepper (saving 1 T. for garnish) and onion until softened. Add the cauliflower, corn (and corn cob), poblanos, and chicken broth. The cauliflower should be just covered, add up to 2 c. water, as needed.
Bring to a boil and then reduce heat and simmer until cauliflower is cooked through, About 10-15 minutes. Add the cumin and cook another 5 minutes.
Transfer soup mixture to a blender in 2 cup increments and blend until smooth. Leave some carrots and celery in the pot for a chunkier texture. Return to the pan and stir in half and half. Cook on medium for 3-4 minutes until warmed through.
Garnish with reserved poblano and red bell pepper. Serve with tortilla chips, if desired.