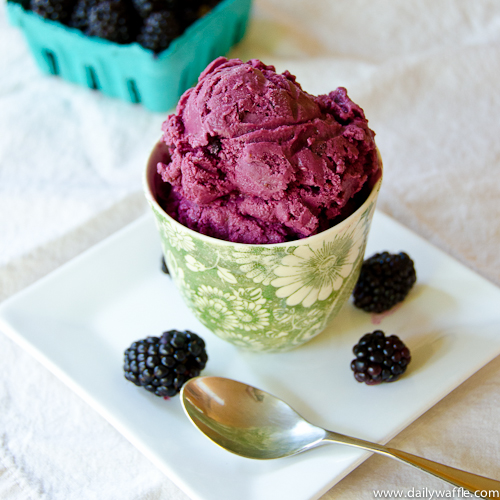 At the tail-end of blackberry season, every week is a guessing game. Whose berries will best?  Last week, the Skagit Sun blackberries and golden raspberries were terrific. This week those blackberries were phenomenal — sweet and full of berry flavor. It's not hyperbole. I bought a mixed flat of blackberries, golden raspberries and regular raspberries and ate half a basket of the blackberries as I walked back to the car.  Then I high-tailed it back to their booth to get another flat of just blackberries.  I thought I might make pork chops with a blackberry-cabernet sauce, but then I remembered this froyo.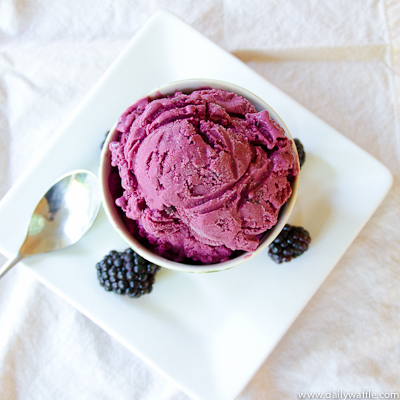 With OJ's new diet and exercise regimen, desserts have largely been off the table.  But this blackberry froyo made the cut. Actually a Pinterest discovery, it keeps it simple — just blackberries, Greek yogurt and sweetened condensed milk. Definitely use at least the 2% Greek yogurt for a creamier texture. Mine was slightly icy, but no less delicious, since I mixed 2% Fage and Trader Joe's tangy non-fat French Village yogurt (it's what I had in the fridge).  If you have a Kitchen-Aid ice cream attachment,  there'll be a little of the blackberry mix leftover. It fits in a large loaf pan for freezing.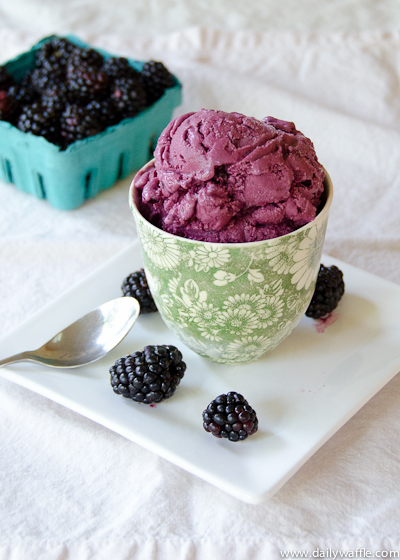 I always wonder if people actually make any of the recipes they pin on Pinterest, or if it's just, "Ooh, that's looks really good." Before blackberry season runs out, you should try this one. And if you're into quinoa and black beans, try these burgers, another one of my Pinterest-find faves.  If you're interested in my other finds, follow me on Pinterest here.
What recipes have you found on Pinterest that you love?
RECIPE: Killer Blackberry Froyo
###