Hold on, the headline says pig roast. Why am I looking at soup?  Because a pig roast, while delicious, is ugly gorgeous.  As the sunny season winds down at Cafe Juanita in Kirkland, Washington, this soup is one of the things I've been looking forward to all summer.  Pappa al pomodoro.  You know this soup? Tomatoes, hand crushed. Garlic, basil, cayenne, olive oil, balsamic, sherry vinegar, bread.  Served at room temp, it is the essence of summer. At Sunday night's Pig Roast, pappa al pomodoro was a pre-dinner summer sipper.
This is perhaps the one Cafe Juanita recipe that gets shared the most, but I've never actually made it. Why? It's a destination dish.  I'll just say, it's worked out really well that we got married in late summer. If I plan it right, I can have it at the restaurant. If you can't, the recipe is here. So what about that pig roast?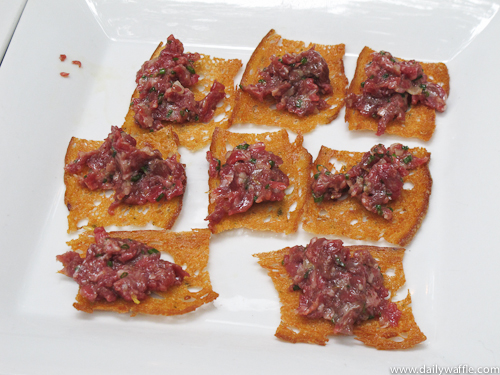 Another pre-pig taste: Wagyu crudo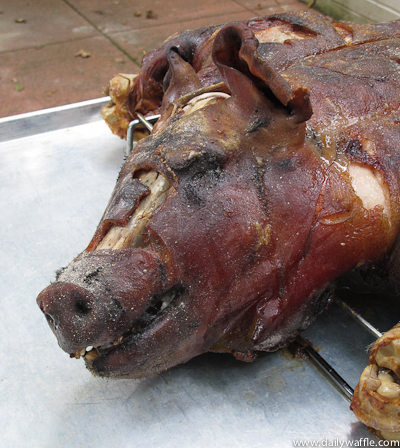 Alright, let's get to the pig.  Ugly gorgeous. It was a 70+ pounder from Jones Family Farm.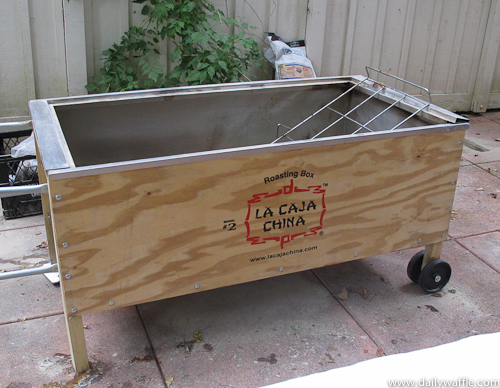 Roasted in this box for a little over 5 hours. You can actually get one on Amazon.  We're thinking about it (sort of, maybe, not really).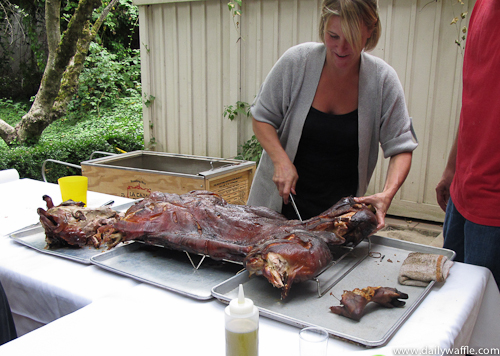 Chef Holly Smith breaks down the roasted pig.
Slicing up the spoils. Seriously, every bit, including the skin was delicious.
Line 'em up: After we gathered 'round to watch the pig being broken down, we lined up for our portions.
What goes with pork?  Peaches. Yes, grilled peaches with rosemary served with burrata.  So lovely. A combo I'll be repeating next summer.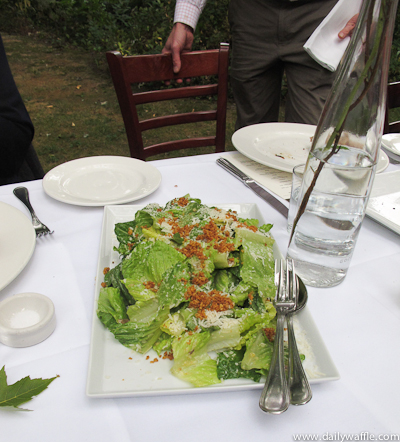 In addition to the peaches, we had a little caesar salad.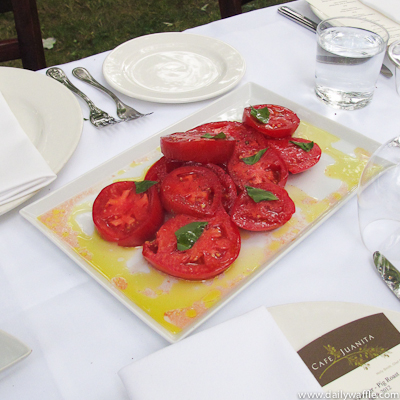 And heirloom tomatoes with grilled bread (no filter!)
It's a rare spot that's formal enough to do a fantastic multi-course pasta dinner and casual enough to roast up a whole pig and let people line up, plates in hand. Here's hoping they bring the series back next summer.
Cafe Juanita
9702 NE 120th Place
Kirkland, WA 98034
425.823.1505