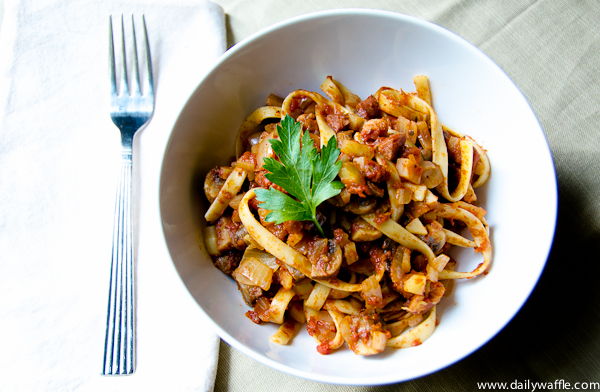 I'm tiptoeing into Fall. The last few mornings there's been more of a chill in the air, but the afternoons are still warm. I'm still wearing flip-flops, but with long sleeve t-shirts. My cherry tomato in a hanging pot is in its second wind. This is when we keep our fingers crossed for one last push. Last night's pasta carried that forward. Summer's Lite Brite punches of heirloom tomato and basil were left behind, making way  for the earthiness of mushroom.  We (er, I)  haven't quite given ourselves (read: myself) over entirely to the autumn, but this mushroom ragu was a first tentative step.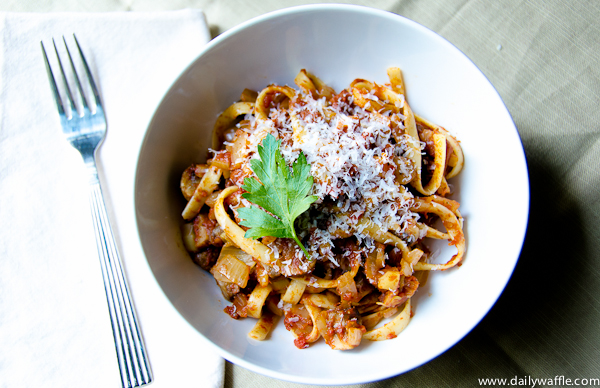 I'll own up right away – it's not vegetarian.  I have made it vegetarian and for me, it's ho-hum.  Fine, but not, "I'll have seconds. And thirds." In that version, I even tried to up the umami using soy sauce in place of salt.   It's pancetta that makes the difference.  And in this case, please don't sub bacon. It'll be smoky.  Get a chunk of pancetta at the deli counter or your Italian market. Get a few, and throw the other two in the freezer for later. Worth it.
I might have been influenced by Spilled Milk's latest podcast – on mushrooms, natch – but you gotta go crimini for this recipe.  You want flavor.  No buttons allowed. Only if you look in the back of your fridge and think, where the hell did those mushrooms come from?
I really wanted to call this a Bolognese, but as research revealed, it's just not.  Bolognese has dairy, usually milk, and is more meat with tomato than tomato with meat, sauce-wise.  Either way, this ragu is tasty and a perfect way to fall into Fall.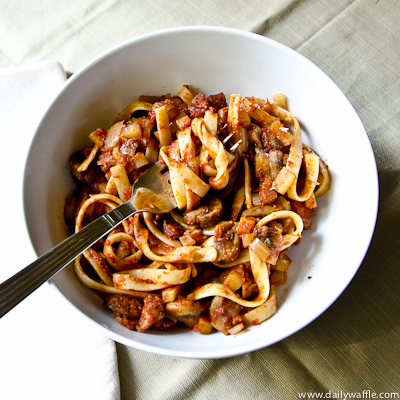 Ingredients
3/4 lb. fettuccine, boiled until al dente

1/4 lb. chunk of pancetta, diced finely

1/2 lb. crimini mushrooms, quartered (or cut into sixths, if they're large)

1/2 a large onion, diced finely

1 carrot, diced finely

1/4 c. white wine

1 14.5 oz. can of whole plum tomatoes, crushed by hand

2 T. tomato paste

1/4 t. dried thyme

salt & pepper, to taste

Parmigiano Reggiano, to garnish
Instructions
1
In a large skillet, render the pancetta over medium heat until lightly browned. Add the onion, carrot and mushrooms, cooking until the onions are translucent, 5-7 minutes. Deglaze the pan with the wine and let cook another couple of minutes. Stir in the tomatoes, tomato paste and dried thyme. Bring to a boil and then reduce heat to simmer about 20-25 minutes. The sauce will thicken and shouldn't be at all watery.
2
While the sauce is cooking, bring a large pot of water to a boil and salt it generously. Boil the pasta according to package directions. Drain the pasta and transfer it directly into the pan. Mix it in with the sauce and turn off the heat.
3
Garnish with parmesan cheese, if desired (yes, it is).
Notes
I've made this ragu both with and without pancetta, and it'll come as no surprise to some you, its 10x better w/ the pancetta.