September is about new beginnings, well, at least as far as the school year goes, so maybe that's why OJ kicked off his new diet and exercise regimen now. Whatever it is, this new deal is already changing the way we eat (and I thought we were in a pretty good place to start with).
The main challenge? Everything is weighed separately – 100 g protein, 80 grams carbs, however many grams fat. But when I start to look at how I cook, how do you calculate vegetable soup or pot pie or a casserole of any kind? Everything is mixed in.
This first week there's been a lot of grilling going on. Last night flank steak, over the weekend we grilled chicken. And it was that chicken that formed the basis for this chicken tikka pasta salad.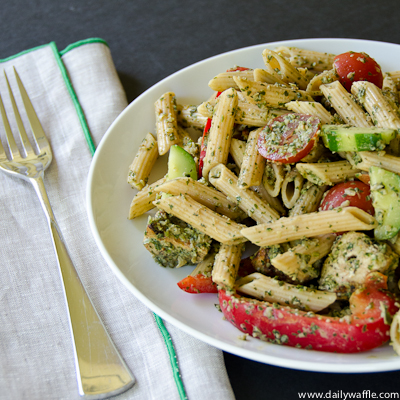 Everyday pasta salad with an "Italian" dressing of some kind gets old pretty quickly, and I find the pasta always soaks up the dressing, but never seems to have much flavor, especially when its served cold. So the idea of taking the tikka and capitalizing on Indian flavors was appealing. Using the cilantro-mint chutney as dressing rather than dipping sauce was the a-ha! It's light and fresh, but with the kick of jalapeno.
Start with the recipe for chicken tikka and cilantro mint chutney. Since this is based on leftovers, the chicken and chutney amounts below are approximate. And since OJ is weighing all his food these days, we mixed up our own portions. I tend to err on the side of more vegetables and wanted to make sure the dressing was evenly distributed, so I mixed mine in a bowl and then plated it.
So I'm sure you're wondering, does this mean no more sweets on DailyWaffle? Ha, as if. It's only one of us who's on a diet and exercise regimen. There'll still be sweets, oh yes, there will.
Ingredients
1/2 lb. whole wheat penne, cooked in salted water, according to package directions

1 Japanese (or English) cucumber, halved and cut into half moons

1 large red bell pepper, sliced in ½ in. strips

6-8 cherry tomatoes, halved

½ lb. chicken tikka

1/4 to 1/2 c. cilantro-mint chutney
Instructions
1
Bring a pot of water to a boil, salt generously and cook penne according to package directions. Rinse the pasta in cold water to cool it quickly and set aside.
2
In a large bowl, combine cooled penne, cucumber, bell peppers, chicken and 1/4 c. of cilantro-mint chutney. Add more to taste as needed. Salt and pepper to taste (though I doubt you'll need it!)