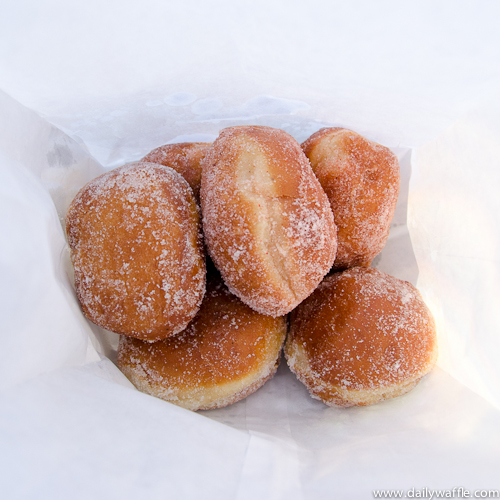 Since I was a kid, I've loved donuts. Wednesday mornings on the way to school, my mom would stop at the donut shop in my home town. I'd hop out of the car and drop a couple of quarters into the newspaper machines for the LA Times and Examiner food sections and sometimes we'd get a dozen donuts in a pink box. Sugar-raised, glazed, chocolate-topped, a crumb cake (always the last one left in the box) and a plain cake for my grandpa. Other times, on weekends, we'd go to Dunkin Donuts and get a bunch of Munchkins in an orange handle box. The chocolate cake ones were my favorite.
Fast forward 15 years. The first time I had a malasada might have been at Komoda Store in Makawao, Maui. It was good, but just seemed like a donut. Later, on the Big Island we got some malasadas fresh from the fryer at Tex's, and a new obsession was born. Rolled in sugar, these yeast-raised donuts are tender and sweet, and they're as key to a visit to the Islands as plate lunch and good shave ice. Everyone always says Leonard's in Honolulu is the gold standard, I can't say, I haven't had theirs yet.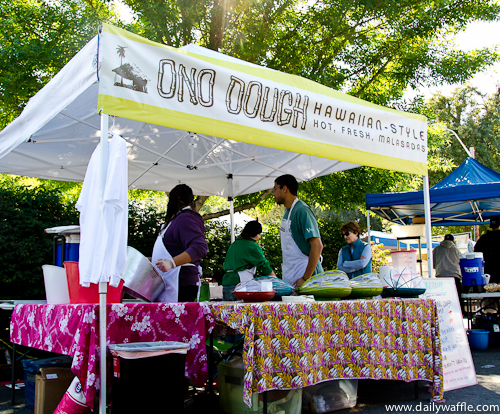 Malasadas originated with Portuguese immigrants who came to work the plantations in Hawaii and according to The Food of Paradise
, it's an eggier dough that differentiates them from regular ol' sugar-raised donuts. BTW – the book is a good read if you're interested in Hawaii's culinary heritage, and the influences of each group of immigrants that came to its shores to work the sugar cane and pineapple fields.
On the mainland, you can get malasadas at Hawaiian and Pacific Islander cultural events. In Seattle, Kauai Family Restaurant has them on weekends; Ma'ono has apple malasadas on their brunch menu. Unless you make them at home on the regular, they're more of a once-in-a-while kind of treat. Then Ono Dough turned up at the Issaquah Farmers Market this season, and a once-in-a-while treat became an almost every Saturday ritual.
Ono Dough is one of the best new additions to the market this year (and one of the most dangerous, at least when it comes to your waistline). Each Saturday at Issaquah (and Tuesdays in Renton), the Ono team delivers pillowy, tender malasadas straight from the fryer, rolled in either plain sugar or li hing mui (sour plum) sugar. Not only do they have original/traditional (3 for $4), but there's always a flavor of the week — lemon (my fave), mango, pineapple or coconut (3 for $5).K eep up with flavor updates on Ono Dough's Facebook page.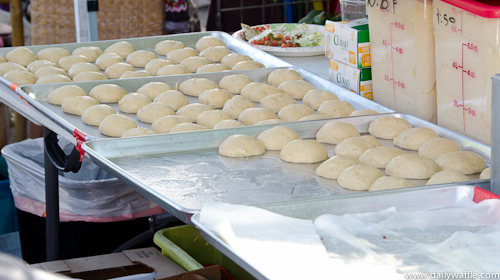 Malasadas ready for the fryer.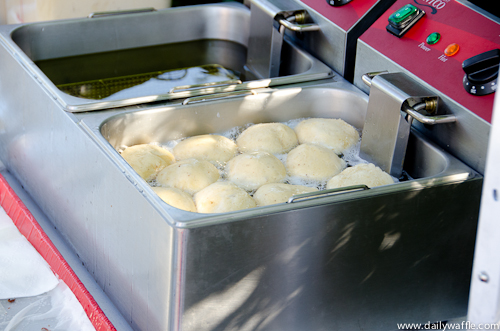 Gettin' there.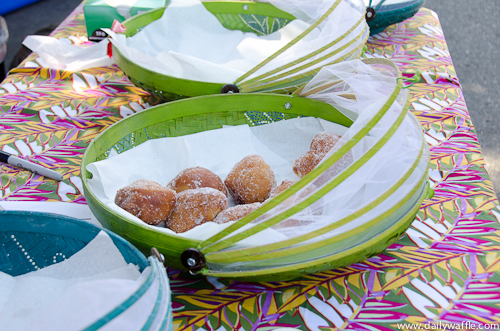 Rolled in sugar…mmmm.
Ono Dough
Issaquah Farmers Market – Saturdays
Renton – Tuesdays