Some long weekends I go into overdrive on cooking projects, but over this past Labor Day weekend, I felt compelled to do almost nothing. I hit the farmers market Saturday morning after having missed the two previous weeks and bought a ridiculous amount of Roma tomatoes and nectarines to stave off that nagging (read: desperate) feeling that summer is slipping away. But I didn't have anything really in mind for them.
OJ is embarking on a new diet and exercise regimen, which puts some real food limitations on half our household, so a nectarine buckle was out of the question and I didn't feel motivated enough to make tomato paste. So despite our larder being more than full, this weekend was about simplicity. It was also about baseball games, braving the crowds at Pike Place and stocking up on this and that at Cost Plus, but mostly, it was about simplicity.

This weekend was about cooking other people's food instead of invention.
Friday and Saturday night was tacos made with Alton Brown's Taco Potion #19, and this roasted poblano and tomato salsa from the kitchn. Sunday was lamb and beef burgers with tzatziki and Greek salad.
With no big plans for a Labor Day barbecue, Monday we marinated some chicken – garlicky citrus and some for the go-to tikka – and made a simple green bean and cherry tomato salad. This was the last week for the farm in Puyallup with the delicious haricot verts, so it seemed even more apropos.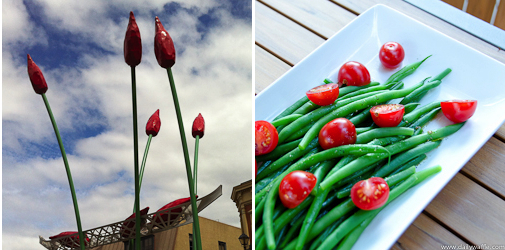 Earlier in the summer I spent a weekend in Victoria, BC, where the photo on the left was taken. Do these two things remind you of each other, or is it just me?
Like I said, the theme of this weekend was simplicity and this salad is most definitely that. All you really have to "make" is the dressing, which is just seasoned rice wine vinegar (seasoned is key!), olive oil, salt and pepper. It stops short of being an Asian dressing — no ginger, no sesame oil, but you can kick it with a little jalapeno if you like. It's a pantry dressing that requires no forethought and goes well on most salads. Where others might default to a champagne vinegar or apple cider vinaigrette in a pinch, rice wine vinegar is our go-to. Enjoy.
Ingredients
1 lb. green beans, rinsed and stem ends snapped

8-10 cherry tomatoes, halved

Dressing

4 T. seasoned rice wine vinegar

2 T. olive oil

pinch of salt

black pepper
Instructions
1
Fill a medium bowl with ice and cold water to create an ice bath. Set aside.
2
Bring a skillet of water to a boil and add 1 T. kosher salt. When the water returns to a boil, add the green beans and cook for 4 minutes, or until just cooked, but still crunchy. Immediately transfer the green beans into the ice bath to stop the cooking. There, you've blanched them.
3
In a small bowl, whisk together the rice wine vinegar and olive oil. Season with salt and pepper. Arrange the green beans in a dish and garnish with cherry tomato halves. Pour the dressing over the beans and tomatoes evenly and serve.