With everyone getting kids back to school, summer has been declared over. But I won't let it be. I'm saying right here, right now, it ain't over til it's over. We're in the best days of late summer – still warm and mostly sunny – and the chiles have arrived. The chiles – you know the ones. From New Mexico. As a California native, it pains me to say it, but Anaheims just aren't the same. We've waited through the green peppers, then the jalapenos and poblanos, and now the green chiles are here. Finally, it's Hatch chile time.

I wasn't born a chilehead, but I look forward to chile season all year. Sure, you can get red bell peppers (yes, I know, they're not chiles) and jalapenos grown in greenhouses the rest of the year, but there's something about the changing light, the waning heat of the late summer that signals the best chiles are just ahead. Enough New Mexicans have moved to the Pacific Northwest that even up here, our grocery stores are bringing in those gorgeous chiles. And some of us have been waiting for the hot ones. I'm usually a weenie when it comes to heat, but by Northwest standards, I like 'em hot-hot-hot.
I haven't yet made the pilgrimage to New Mexico — the festival is this weekend, btw — but one day I'll get there. It's a Labor Day weekend tradition and travelling during holiday weekends is challenging at best, and at the end of summer (ok, fine, I said it), fuhgeddaboudit.
This year, I'm working up some new Hatch recipes to join the mac and cheese and enchilada casserole. Today's selection? A perfect accompaniment for a bowl of red. Who needs cornbread when you've got Hatch chile popovers?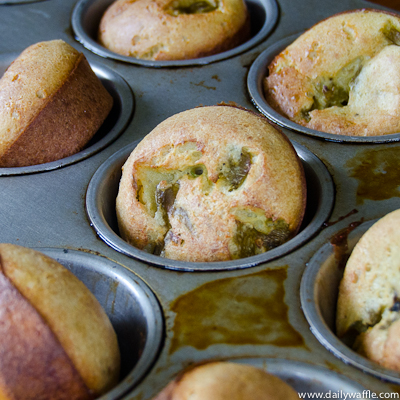 Ingredients
½ c. whole wheat pastry flour

½ c. all-purpose flour

2 T. cornmeal

1 t. sugar

½ t. salt

a pinch of black pepper

½ t. Mexican oregano (optional, if you only have regular oregano, skip it)

3 eggs

1 c. milk (at least 1%)

2 green onions, white and green parts, chopped

½ c. Hatch chiles, roasted, peeled, seeded and finely chopped (about 3-4), divided

1 c. Beecher's Flagship (or white cheddar)

Non-stick vegetable spray
Instructions
1
Preheat oven to 425F. Spray a 12-muffin tin with non-stick vegetable spray and set aside.
2
Whisk together flours, cornmeal, sugar, salt, pepper and oregano (if using). Put the eggs, milk, green onions, all but 2 T. of Hatch chiles, and cheese into a blender and whizz them up. Add in the dry ingredients and blend until combined.
3
Pour batter into the muffin cups, filling each ¾ full. Garnish the tops of each muffin w/ the remaining chiles. Bake for 20-25 minutes until browned. Let cool for 2-3 minutes and loosen from the pan. Take a bite of one and cry tears of joy because it's so delicious.