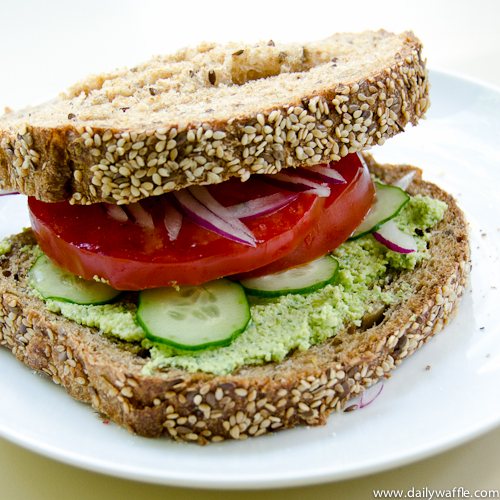 We're in the dog days of summer, finally. Days so hot all you want to do is sit in front of an oscillating fan and sip a cool glass of iced tea. Days so hot nothing is getting cooked, except you in your car on the commute home. I've got something for you. It's cool, crisp and refreshing. It's….a sandwich. Well, a dip and a sandwich. Break out the food processor, we're making edamame hummus, which you can do as dip for dinner with veg and pita chips, or as a great spread on sandwiches for the "Damn, could it get any hotter?" nights ahead.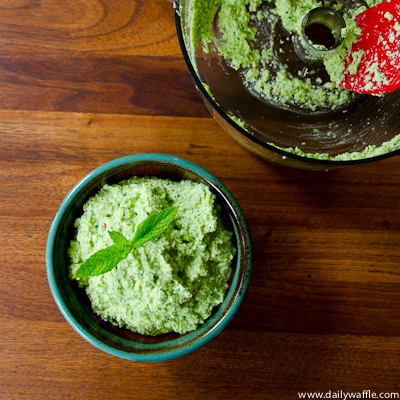 This hummus looks to mint for its cooling effects and is brightened with lemon and tangy yogurt. How much salt you'll need will depend on whether or not your edamame is salted to begin with. Just don't make the mistake I did the first time I made this. All I had was whole edamame in the pod, so I got to shell an entire bag by hand. Make it easy on yourself and get the pre-shelled variety.
The sandwich – you can see for yourself. Start with good whole grain bread…this multi-grain from Grand Central is a new obsession. Smooth on a nice layer of the hummus, top with 6 or 8 cucumber slices, 2 fat slices of beefsteak tomato, salt and pepper that layer, add a few thin thin thin slivers of red onion and call it good. You want hummus on both sides? Do it.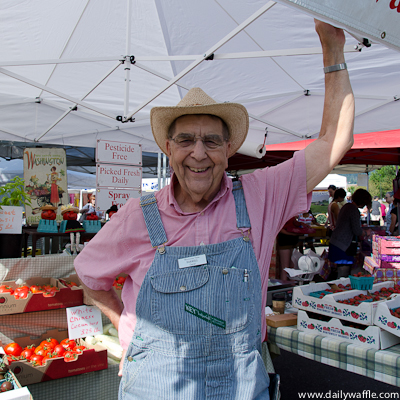 The gorgeous beefsteaks and cucumbers in that sandwich are grown at Westover Farm in Maple Valley, WA by this man, Darrell. His booth at the Issaquah Farmers market on Saturdays is a regular stop for us, particularly for his Japanese cucumbers. I don't know if it's the water or the variety or both, but they've got great flavor and we haven't had one of those thick-skinned, nondescript regular ol' slicing cucumbers come through our doors yet this summer.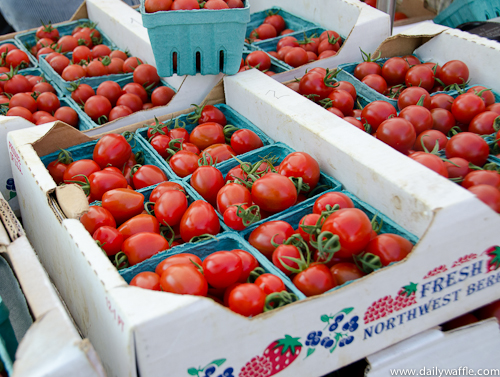 In addition to the beefsteaks, Darrell's usually got a couple of varieties of cherry tomatoes on hand. If you're a regular at the Issaquah Farmers market, and even if you're not, stop in. They're also selling direct from the farm during the week. Call for hours and details.
Westover Farm
24030 SE 192nd St.
Maple Valley, WA
425.432.1597
Ingredients
1 12 oz. bag shelled edamame, thawed

2 garlic cloves, roughly chopped

2 green onions, white and green parts, roughly chopped

1/4 c. mint

1/4 c. cilantro

1/4 t. ground cumin

1/2 t. salt

1/4 t. red pepper flakes

juice of 1 medium lemon

2 T. plain yogurt

2 T. olive oil

2-3 T. water
Instructions
1
In the bowl of your food processor, combine the edamame, garlic, green onions, mint and cilantro, pulsing 8-10 times, until it becomes chunky. Add the cumin, salt (if needed), red pepper flakes, lemon, yogurt and olive oil. Run the machine to incorporate and add water as needed to reach your desired consistency. The dip should be thick enough to spread, not watery.