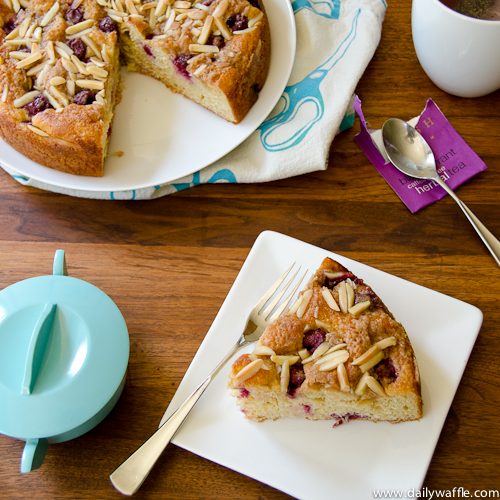 Are you always the last to know? I feel that way about sour cherries. Did everyone else already know how good, how different they are from regular sweet cherries? Why did no one tell me?
Our pie cherry week(s) (season is too long to actually describe it) finally arrived in Seattle, I know most everyone else had their go in June and pie cherries are but a distant memory at this point. But with only one shot with them, I split the difference and made a sour cherry compote and a coffee cake. And now we know who's been hoarding all the pie cherries, because I thought, "OMG – it really does taste like canned cherry pie filling!"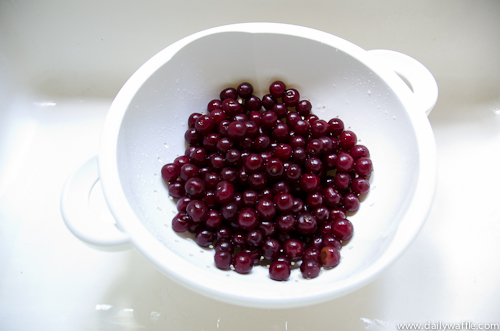 Be warned, they take effort, even more effort than regular cherries. Especially if you don't have a proper cherry pitter. But Internet to the rescue, you can use a straw. It does work, and one site claims that Subway straws are the best for pitting cherries. I can't vouch for that, but I can tell you, it took two straws to do 2 lbs. of cherries.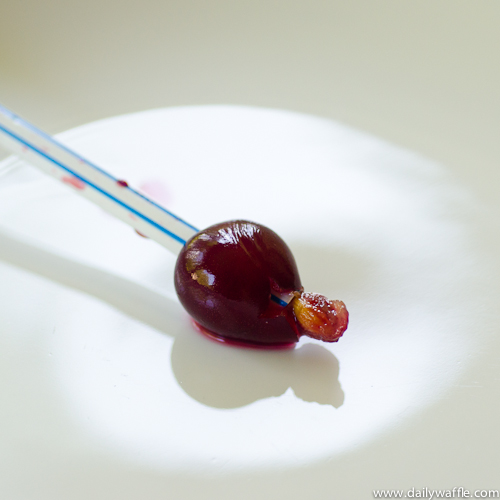 Onto the coffee cake. It's a Whole Foods recipe that uses whole wheat pastry flour. My only tweaks were to sub in the cherries for blueberries and replace the vanilla extract with almond. A couple of tips:
1. Use regular yogurt, not Greek. It needs the moisture in regular, unstrained yogurt. When I have substituted Greek yogurt and then tried to make up the moisture with a couple of tablespoons of milk, it's a guessing game that can lead you to overmix.
Which leads me to tip #2:
2.Don't overmix the batter. The cake will get tough.
So what good does this do you, if sour cherry week is past? Blueberry season isn't over yet, and that version of this coffee cake is fantastic, too.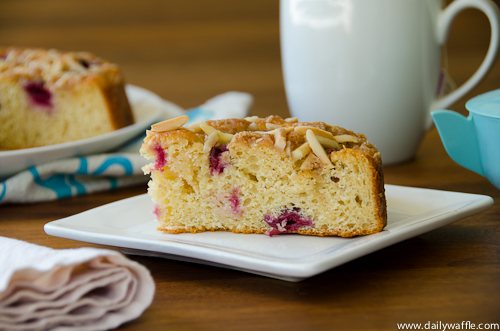 Ingredients
2 tablespoons plus 1 cup whole wheat pastry flour, divided

1/4 cup brown sugar

2 T. butter cut into small pieces

1/2 t. ground cinnamon

1/2 cup all-purpose flour

1/4 cup sugar

2 t. baking powder

1/2 t. baking soda

1/4 t. salt

1 c. plain yogurt

1 t. almond extract

2 eggs

2 cups fresh sour cherries

1/3 cup slivered almonds

Nonstick cooking spray
Instructions
1
Preheat oven to 350F. Spray a 9 inch cake pan with nonstick spray and set aside.
2
To make the streusel, combine 2 T. whole wheat pastry flour, brown sugar and 2 T. butter and cinnamon, in a small bowl until it forms small chunks.
3
In a medium bowl, whisk together remaining whole wheat pastry flour, all-purpose flour, sugar, baking powder, baking soda and salt. Fold in half the cherries.
4
In a medium bowl, mix together the yogurt, almond extract and eggs. Add to the dry ingredients, stirring just until the mixture is moistened. Do not overmix. Pour into the cake pan. Sprinkle streusel over the top. Add remaining cherries.
5
Bake for 30-35 minutes until a toothpick comes out clean. Let cool for 3-5 minutes and then remove from the pan. Slice and serve