Seattle Succotash Salad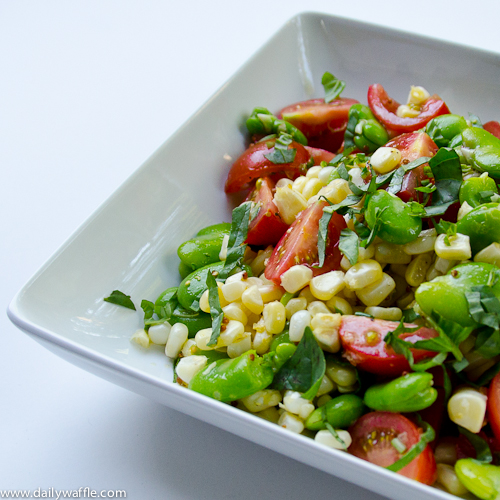 Pop quiz! What makes succotash, succotash?
A. Lima beans
B. Corn
C. Cooking the vegetables
D. Pork
E. Who knows? All of the above.
On a multiple choice test, they always say, pick C, but in this case, I'm going with E. Merriam Webster says succotash is corn and lima beans. The word comes from the Narragansett for boiled corn, "msíckquatash." Some recipes add bacon or ham. Most recipes cook the vegetables. Others add tomatoes, or red or green bell peppers. Sufferin' succotash!


We're finally nearing the end of fava bean season in Seattle, so these fat little beans are getting one last hurrah in what I'm calling Seattle Succotash Salad. These little fatties boiled for 4-5 minutes, go 2-3 if you still have some smaller, normal sized favas. Favas long gone in your neck of the woods? Use edamame, or why not lima beans?
While we're throwing rules out the window, let's dress it with a basic vinaigrette and sprinkle on some basil. Is this still succotash? Sure it is. Have at it!
Seattle Succotash Salad
(Serves 1 hungry person as a main or 2 as a side)

1 ¼ lbs. fava beans, shelled, blanched and removed from their skins (~1 ½ cups fat fava beans)
1 ear corn, kernels cut from the cob
6 cherry tomatoes, quartered
¼ c. basil, cut into chiffonade

Dressing
1 T. champagne vinegar
2 T. olive oil
½ t. whole grain mustard
pinch of sugar
salt & pepper

Whisk together vinegar, oil, mustard and sugar until emulsified. Season with salt and pepper and stir until combined.

In a large bowl, combine favas, corn, cherry tomatoes. Toss with dressing until coated. Taste and season with additional salt and pepper, if needed. Transfer the salad to a serving dish and sprinkle with basil.