When corn is finally in season, it's hard not to eat it non-stop. The first corn for us is always reserved for bill's corn fritters, but after that, it's game on for corn in salads, or roasted on the cob, slathered in butter and salt, or sprinkled with chile powder and lime juice. One of the best ways to enjoy the pure flavor of corn is in chowder. Soup in the summer? Yes, oh yes.

Mark Bittman's Corn Chowder uses the cobs to create a corn broth which is gently flavored with green onion and cheddar cheese and made creamy with whole milk. On the whole, it's a light chowder. I opted to swap in Beecher's Flagship cheese for the sharpness of cheddar with a little more nuttiness. The original is garnished with a little more green onion, but I wanted to go a little further. I rendered off 1/4 c. of finely diced chorizo casero, which Columbus Salame provided as part of a sample pack. It's a drier chorizo, closer to the Spanish style. Rendering the chorizo leaves it crunchy and intensifies its flavor, and it gives a salty, smoky pop to the soup. I mean, just look at it, which one would you rather eat?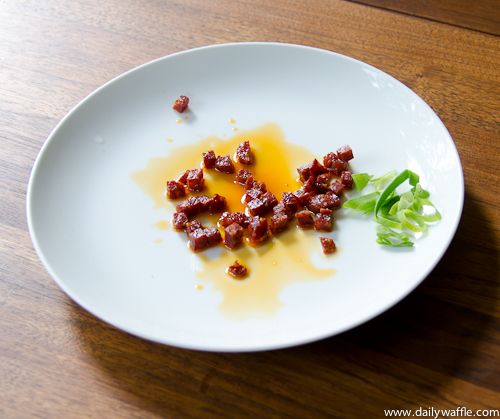 One note, don't blot the chorizo on a paper towel after rendering. You want that delicious oil.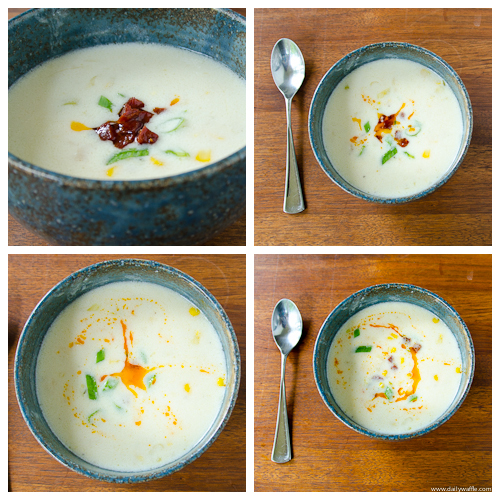 Photographing it turned out to be a different challenge all together. First I sprinkled the chorizo in the center of the bowl with a little green onion. Nice, but it started to sink, and left some paprika-y oil in the center of the bowl. And then I dragged a spoon through the chorizo oil and made a little bit of a starfish. A little more swirling and we had a nice little design. A little southwestern-fusion restaurant in the 90s, but still, a nice design. We'll call it retro.
RECIPE: Corn Chowder with Cheddar