Cafe Juanita's Al Fresco Pasta Dinner
As a food town, Seattle may not have the swagger of New York or San Francisco or LA, but it stands on its own. Ask foodies across the country about Seattle and they might mention Pike Place or the fact that Tom Douglas catered a fundraising lunch for President Obama, but ask them if they've heard of Kirkland, Washington and they'll say, "Oh yeah, like at Costco. Kirkland."
A Microsoft bedroom community, Kirkland is the home of Costco #1, but it's also the home to one of the best restaurants in the Seattle area — Café Juanita. Specializing in northern Italian cuisine with a focus on locally sourced ingredients, Café Juanita is casually elegant, at once special occasion and neighborhood spot. You might know chef/owner Holly Smith as winner of the James Beard Foundation's 2008 Best Chef Northwest, or for her turn on Iron Chef America, where she won her bout with Iron Chef Cat Cora. This year, Chef Smith was nominated as Outstanding Chef in the US by the Beard Foundation. But I gotta tell ya, I didn't need the Beard Foundation to confirm that Chef Smith's got game.

We first went to Café Juanita in 2008 during Wolf's second round of interviews, which I want to say was in August, just when Cafe Juanita's menu features melon and prosciutto and pappa al pomodoro. I was in love.
Even when it's just the two of us, we usually share at Café Juanita to maximize the tastes in a meal. The section of the menu I look forward to most? Pasta. The gnocchi are tiny, tender little pillows. The pasta is gorgeously deep yellow and so thin there's no question about skill here. I always wonder if my Kitchen-Aid can achieve the same result. Whether it's with a pork or lamb sugo or something else, these are always the plates I would lick clean if no one was looking. When I got wind of an al fresco pasta dinner to be held on Café Juanita's back patio, we were a lock.
Last Sunday, a cloudyish day for July, we enjoyed a late afternoon apertif followed by five courses of pasta and gnocchi (plus a few salads). It was actually perfect. The previous Sunday was a scorcher for Seattle, the first sign that summer had arrived. But this Sunday was cool, just right for sitting out in short sleeves, sipping wine and eating a ridiculous amount of food.
The restaurant itself is a renovated house which looks single story from the street. Its backyard backs onto a stream next to a huge huge maple. On the back patio, we enjoyed a little prosecco and some pre-dinner nibbles — lemon crackers with a bit of LaTur, and both lardo and foie gras crostini. This is where balancing a glass, a nibble and a camera don't mix, so unfortunately, no photos. Here, Chef Smith chats with guests before dinner.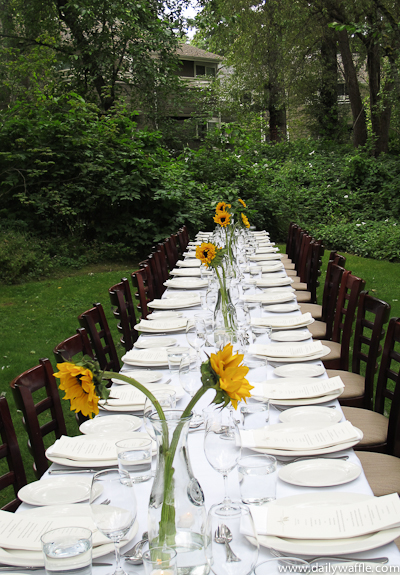 It's a garden party for 30.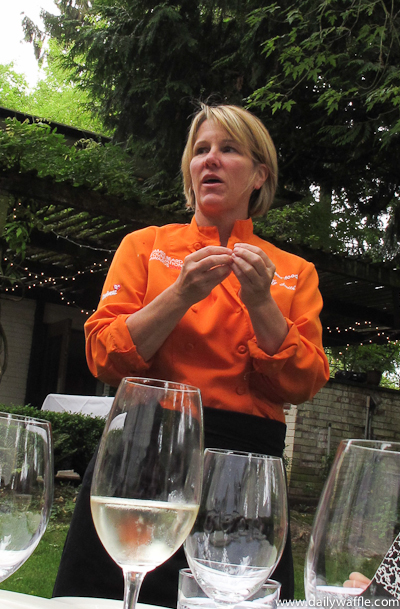 Chef Smith introduces the menu, takes us through how it'll be served — like at your grandmother's house, she says. If there's a little left in the dish, and the next course is on its way, the servers might force it on your plate and take the serving dish away.Then she's back to the kitchen to get cooking.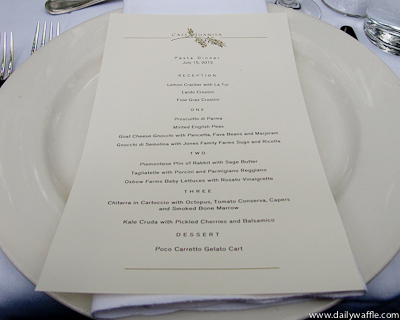 The bill of fare.
Peas and prosciutto to start.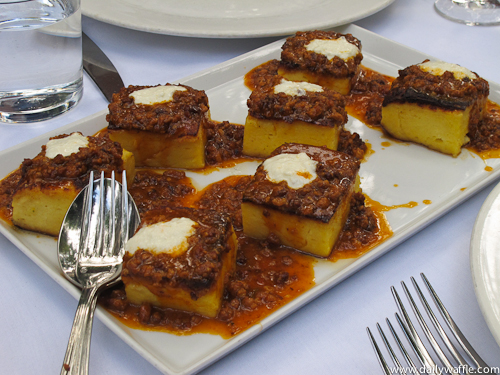 The gnocchi semolina with pork sugo set a high bar. It gives me hope for the next time I try gnocchi alla Romana. It's a shame we were served family style, I could have eaten this entire platter. I'm not kidding. No risk of there being any left on this plate.
Tagliatelle with porcini mushrooms and lettuces with rosato vinaigrette. Simple and delicious.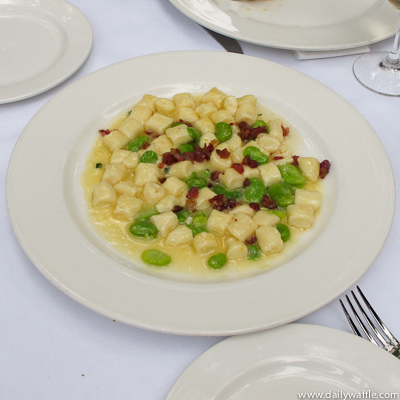 Ricotta gnocchi with pancetta, favas and marjoram.
Piemontese plin of rabbit with sage butter.
And then, the cartoccio. Spaghetti first cooked, sauced and then baked in a parchment packet, this one with octopus, tomato conserva and capers. Then drizzled with roasted bone marrow and sprinkled with bread crumbs at the table. It *sounds* like too much of a good thing, but it's not, it's just right.
We finished the evening with Poco Carretto gelati and sorbetto — cherry, mint stracciatelli and strawberry.
Cafe Juanita has one more summer dinner planned — a pig roast on September 9. It's already sold out, but call to get on the wait list.
Cafe Juanita
9702 NE 120th Place
Kirkland, WA 98034
Phone: (425) 823-1505