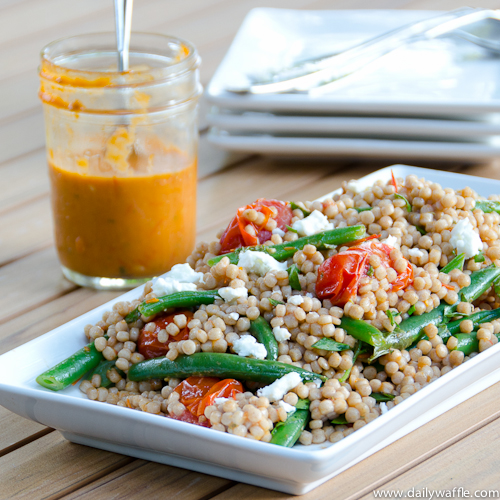 As a cook, my grandma was a product of her generation. Raising kids in the 50s and 60s, she cooked both from scratch and from boxes and packets as convenience foods came on the scene — say chicken and dumplings, with Bisquick dumplings. Some days when I was a kid, she'd start dinner at 2 pm and other days she'd whip together a one-skillet meal in half an hour.
Green beans and tomatoes always remind me one of her one-pan dinners served over rice. She'd sauté chunks of onion with garlic and either chicken or pork in a little oil, then add canned tomatoes and some green beans, cooking until the beans were tender. Salt and pepper was the only seasoning. It was simple, and it cemented green beans and tomatoes for me. This Israeli couscous salad takes inspiration from that dish with just cooked green beans and a roasted tomato vinaigrette, brightened with a trio of herbs.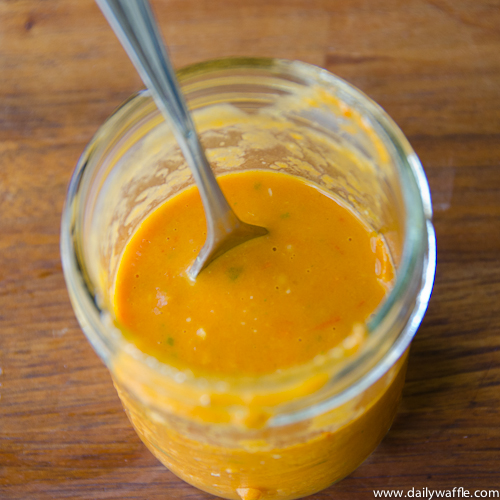 With garlic and basil, the roasted tomato vinaigrette takes on the flavors of the best tomato soup and the couscous just drinks it up. I won't blame you if you want to dip bread into the jar of dressing while it's still warm. It's lovely on simple greens as well. Since my cherry tomato plant is just starting to pop, I used grape tomatoes, they're much less sweet than most cherries.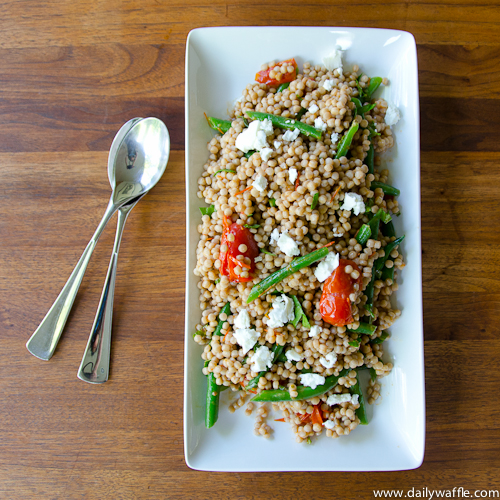 This salad also features whole wheat Israeli Couscous. Way back in January, one of my goals for the year was to eat more whole grains and get more fiber, and this salad fits the bill. Bob's Red Mill's whole wheat Israeli couscous has 5 grams of dietary fiber in a 1/3 cup serving, versus 0 grams in the standard version. The Bob's Red Mill folks were kind enough to send some samples after we met up at BlogHerFood in June.
On the herbs, although it's just a little bit of each one, the mint, basil and parsley each bring a little something different to the party. So if you're tempted to cut a corner, please don't. I know, I'd do the same thing. But, really, whatever you do, don't skip the mint.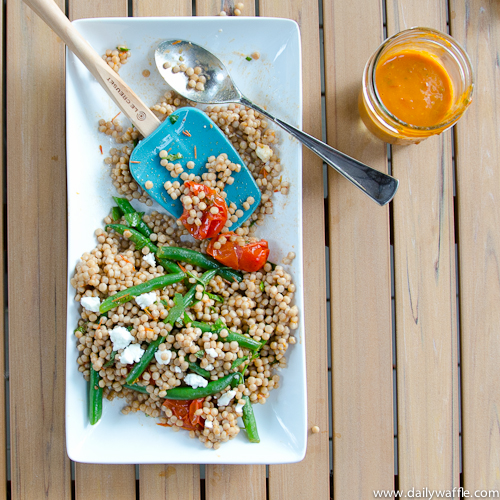 Israeli Couscous with Roasted Tomato Vinaigrette
Print Recipe
Ingredients
Israeli Couscous with Roasted Tomatoes and Green Beans

1 t. olive oil

1 1/4 c . water

1 c. Israeli couscous

pinch of salt

1/4 lb. green beans, blanched

~2 T. feta cheese

1 T. mint, cut into chiffonade

1 T. basil, cut into chiffonade

1 T. Italian parsley, coarsely chopped

Roasted Tomato Vinaigrette

Makes about 8 oz.

3/4 lb. grape tomatoes

1 large clove of garlic (or 2 or 3 small)

1/4 c. + 1 T. olive oil, divided

1/4 t. sugar

1 T. red wine vinegar

3 basil leaves

salt & pepper
Instructions
1
Preheat oven to 350F. In an oven safe dish, coat the grape tomatoes and garlic clove with 1 T. of olive oil. Roast in the oven for 20-30 minutes until tomatoes begin to breakdown. Let cool for 10 minutes. While still warm, puree 3/4 of the tomatoes with their juices (set aside the rest, they'll go in the salad) and the garlic clove in a blender with sugar, red wine vinegar and basil. With the blender running, pour in the ¼ c. olive oil in a stream until emulsified.
2
While the tomatoes are roasting, heat a sauce pan over medium heat. Add 1 t. olive oil and Israeli couscous. Toast the couscous until it begins to smell nutty. Add water and a pinch of salt and bring to a boil. Cover and reduce to heat to low, simmering for 20 minutes until water is absorbed.
3
In a large bowl, mix together 1/4 c. dressing, Israeli couscous and remaining roasted tomatoes. Add herbs and green beans and stir to coat. Pour into a serving dish and dot the salad with the feta cheese. Season with salt and pepper to taste. Serve at room temperature or chilled.
4
Note, Israeli couscous can soak up a good amount of dressing. I started with ¼ c. and it was enough for us. Add more to taste. The remaining vinaigrette can be refrigerated and used within 3-4 days.