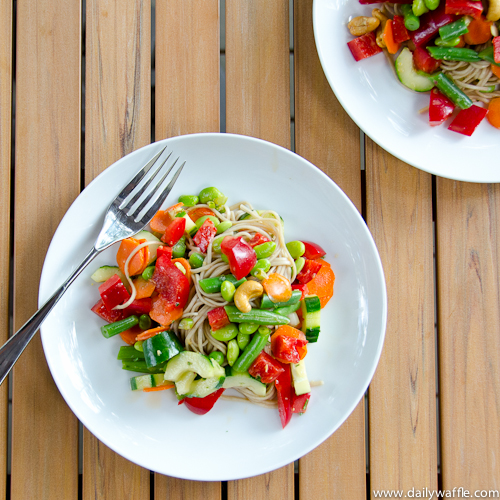 In the summer, it's supposed to be easy to be extra virtuous. Cherries, berries, peaches. Tomatoes, peppers, cucumbers…the markets are overflowing with lovely produce to tempt your tastebuds. But I was anything but virtuous this weekend. It was glorious in Seattle. Summer truly arrived, the sundresses and sandals came out of hiding and we had a little barbecue. Nothing fancy, just sausages, potato salad, grilled peppers and zucchini. But something about sitting out in the warm summer sun put Doritos, Fritos and cupcakes on the menu, too. It was a "I'll start that diet on Monday," kind of weekend.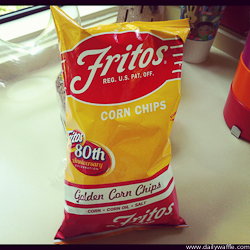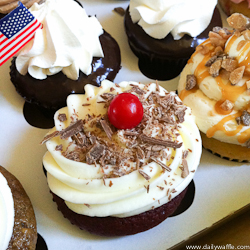 Here's the problem. Same ol' Fritos, but I'm a sucker for retro packaging. Guess there'll be some Frito Pie in my future. And then red velvet cupcakes from Confetti Cupcakes in Issaquah. There are bigger names in Seattle, but not better cupcakes. Their red velvet and carrot cake are not to be missed.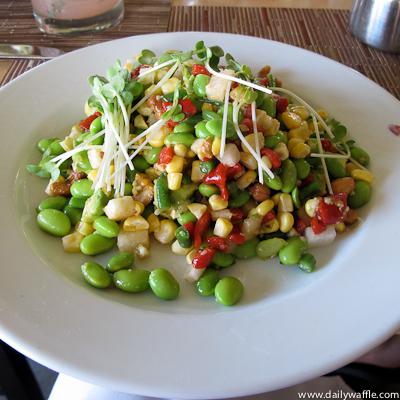 For this meatless Monday, I did a spin on a raw veg salad I had two years ago at BLD in LA. Where most chopped salads sneak in some chicken or crunchy chips of some kind, the BLD salad looks solely to the veg to satisfy. Sweetness from the corn and peppers, crunch from the jicama, creamy avocado, rounded out by edamame for protein — it was delicious.
With neither corn nor jicama in the fridge and a husband who doesn't eat avocado (I know, what?!), my spin takes it in a more Asian direction with a little sriracha in the dressing and is served atop cool soba noodles for a little more heft. The edamame should satisfy your protein requirement, but I also served some tofu dressed with a little shoyu on the side. With this salad, it's easy to be virtuous.
Chopped Vegetable Salad w/ Soba Noodles
Adapted from BLD's Vegetable Salad, as seen in the LA Times.
Serves 2-3 (as a main)

1 red bell pepper, diced into ½ in. pieces
1 carrot, sliced thinly on a mandoline
4 green onions, white parts & 1 inch of the green, cut on the bias
1 c. shelled edamame
1 cucumber, seeded and sliced into ½ in. half moons (~1 ½ c.)
8-10 green beans, blanched and cut into 1 inch pieces
1/3 c. cashews
1 ½ bundles soba noodles, boiled and blanched according to package directions

Salad dressing
1 1/2 t. fresh ginger, minced
1 1/2 t. red onion, finely diced
1 1/2 t. fresh rosemary, coarsely chopped
2 T. soy sauce
1 T. honey
3 T. seasoned rice vinegar
1 1/2 T. fresh lime juice
½ t. sriracha
1/2 cup canola oil

1 package extra firm tofu, sliced into cubes (if desired)

In a blender, whiz together ginger through sriracha. With the blender running, pour the canola oil in a stream, until emulsified.

Bring a small pot of water to a boil and cook noodles according to package directions. Drain and rinse the noodles under cold water. Set aside to drain.

In a large bowl, combine red bell pepper, carrots, green onions, edamame, cucumber and green beans. Add 1/3 c. of dressing and toss to coat.

In a medium bowl, toss together cooled soba noodles and ¼ c. of dressing to coat.

Divvy up the noodles and top with vegetable mixture. Garnish with cashews. Serve with tofu on the side, if desired.