One of my all time favorite summer songs is DJ Jazzy Jeff & the Fresh Prince's SummerTime. It's a head-bobbin', windows rolled down song that takes you right back to the summer of 1991, but is still a jam 20 years later. You know the one:
Summa, summa, summa-time. Time to sit back and unwind…
Here it is… the groove slightly transformed
just a bit of a break from the norm
just a little somethin' to break the monotony
of all that hardcore dance that has gotten to be
a little bit out of control it's cool to dance
but what about the groove that soothes that moves romance
give me a soft subtle mix
and if ain't broke then don't try to fix it…
The other quintessential part of summer is peaches. The first really good one you bite into is a revelation, juice dripping down your chin as you lean over the sink. It's a sign that summer really has arrived. But unless you can get them directly from the farmer, half the time, you don't know what variety you're eating. Buying them at the grocery store is a crap shoot, even at markets that pride themselves on organic, locally sourced produce. It's just "yellow" or "white." So you follow your nose and hope you're getting freestone or semi-freestone peaches. But sometimes you get lucky, sometimes the variety is stamped on the side of the box. Like the Rich Lady peaches I picked up at Trader Joe's last week for $4.99.
Rich Lady, indeed. These peaches are juicy, with true peach flavor and just enough acid to keep things interesting. Some say they're a cling variety, I'd call them semi-freestone. Sliced and mixed with a little sugar, their skins impart a rosy glow to their juices. Rich Lady is a fairly common commercial peach, but this batch was just so good that after making and tasting this cobbler, I high-tailed it back to Trader Joe's, only to find that June Flame peaches had moved in. (sigh)
I doubt Will Smith was thinking peach cobbler when he wrote those lyrics, but this cobbler is a bit of a break from the norm, just a little somethin' to break the monotony. I topped this one with cornmeal biscuits dusted with cinnamon and sugar. The recipe is a mash-up adaptation of America's Test Kitchen's peach cobbler which calls for macerating the peaches and baking them on their own to really draw out the juices (I skipped that step this time), and Mark Bittman's Yogurt Biscuits from How to Cook Everything
tweaked with cornmeal and sweetened with a tablespoon of sugar.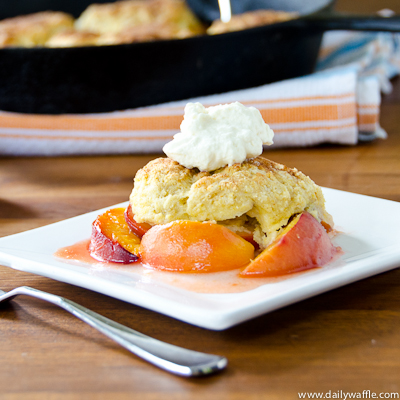 Ingredients
6 medium peaches, pitted and sliced into eighths

1/4 c. granulated sugar

1 t. cornstarch

1 T. lemon juice

1/4 t. cinnamon

Cobbles

1 c. yellow cornmeal

1 c. all purpose flour

3 t. baking powder

1 t. baking soda

1 T. sugar

1 scant teaspoon salt

5 T. cold unsalted butter, cut into cubes

7/8 c. plain yogurt

cinnamon and sugar to sprinkle
Instructions
2
In a medium bowl, mix together the peaches, sugar, cornstarch and cinnamon. Set aside and let macerate for 20-30 minutes.
3
In a food processor, pulse together cornmeal, flour, baking powder, baking soda, sugar and salt. Add the butter and pulse 8-10 times until the butter is broken down in pea-sized chunks.
4
Transfer the dry ingredients to a bowl and stir in the yogurt, just until combined. Do not overmix.
5
Turn the dough out onto a lightly floured board (or countertop) and knead gently 3-4 turns to bring the dough together. Pat into a rectangle about 3/4 of an inch thick. Using a biscuit cutter or drinking glass, cut out 8 biscuits. To get the last two, you'll need to bring the scraps together. I tend to err on the side of not overworking the dough, and end up with two wild looking biscuits pressed together from the scraps.
6
Pour the fruit into a cast iron pan and arrange the biscuits on top, sprinkling the tops with cinnamon and sugar, if desired. Bake for 16-18 minutes until the fruit is bubbly.
7
Serve with whipped cream or ice crea
Notes
Adapted from America's Test Kitchen & How to Cook Everything
RELATED: Pretty as a Peach and Nectarine Cobbler