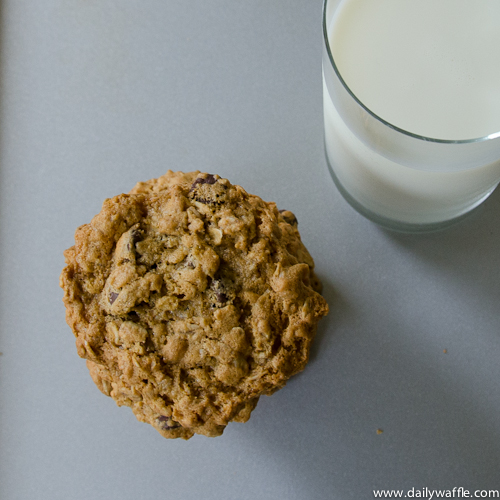 Back of the bag recipes have sustained us for ages. Our grandmothers clipped recipes from paper board cylinders of oatmeal, from the backs of chocolate chip bags, and ordered recipe booklets from Betty Crocker and Jello. Some of those recipes stand the test of time because manufacturers just keep putting them on the packages, like the Toll House chocolate chip cookie recipe. But others are lost to the ages because there was no where else to get them. It's in that spirit that I'm bringing you these cookies from the back of the Trader Joe's Rolled Oats bag. (And we all know how transitory products can be at Trader Joe's.)
So, oatmeal cookies. But not just oatmeal, Gluten-Free Oatmeal Peanut Butter Chocolate Chip.

These cookies actually remind me of Mrs. Matsumoto's cookies. I don't know if I ever actually met her, but the Matsumotos were friends of my grandparents when they lived in LA in the late 50s/early 60s. Later, once my grandparents moved to Orange County, her son would come for a visit now and then, and he always brought cookies.
Bring something when you go visiting, get sent home with something. It's not a quid pro quo, it's just how it is in Japanese American families. It could be an extra plate from whatever meal you enjoyed, it could be some lemons from the backyard tree, or a box of See's Candies. There's the back-and-forth of the offering and requisite refusals…until the visitor gives in, thanks you, and goes on his way. It's about sharing and community. And at my grandma's house, whether it was a friend of the family or me heading back to college on a Sunday night, you weren't getting out that door without taking something with you.
So Mrs. M's cookies. The ones I remember? Sugar cookies with teeny tiny rainbow sprinkle balls. Always flat as a pancake with crispy brown edges, Mrs. M's cookies were made only with butter, even in the Crisco era. These oatmeal (peanut butter chocolate chip) cookies have that same old school browned butteriness to them.
I about flipped my lid when I noticed the recipe had a cup and half of sugar in it. And even though everyone's inclination right now is to use some other alternative sweetener, don't do it, at least the first time you make these. The sugar makes for a crispy cookie, and without gluten to provide a little give, these are crunchy. At least stick close to the idea of granulated sugar – maybe use the coconut palm sugar you got in your swag bag from BlogHerFood. Then file this recipe away someplace safe, you'll want to come back to it again and again.
And for everyone not living through Juneuary, here's what will make turning on the oven in the heat worthwhile. Smoosh a scoop of vanilla ice cream between two of these guys for a killer ice cream sandwich.
Gluten Free Oatmeal Peanut Butter Chocolate Chip Cookies
Print Recipe
Ingredients
¼ c. butter

1 c. creamy peanut butter

¾ c . sugar

¾ c. brown sugar

2 eggs

1 ¼ t. baking soda

1 t. vanilla extract

3 cups rolled oats

1 c. (or 6 oz). chocolate chips
Instructions
1
Preheat oven to 350F. Line a baking sheet with parchment or a silpat.
2
In a large bowl, beat together butter, peanut butter, and both sugars. Add eggs, vanilla and baking soda. Fold in the oats and chocolate chips until combined.
3
Using a small spring-loaded ice cream scoop, place cookies on a sheet about 2 inches apart. Lightly press down on the cookies with the palm of your hand to flatten slightly.
4
Bake for 12-14 minutes until the edges are lightly browned. Cookies will be slightly soft in the center.
5
Note: The yield on this is slightly odd, but I make cookies a little bit bigger, more like a tablespoonful than a teaspoon full. I made some of these extra big, just to see how the dough would do. It takes a few extra minutes baking time for the big ones.