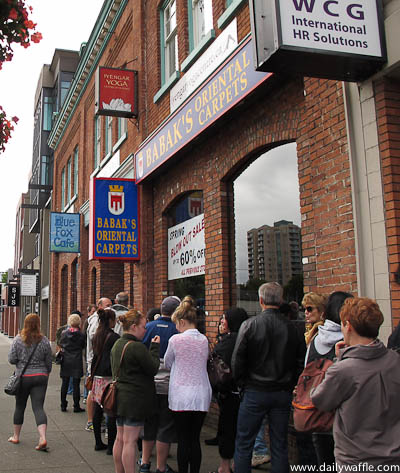 Every city has at least one, right? The breakfast/brunch spot that people line up and wait for without complaint. When we lived in LA, it was Maxwell's (or Blueberry, or Lulu's), in San Francisco it was Rose's and (RIP) Ti Couz; in Portland, there's TastynSons. In Victoria, BC, it might be the Blue Fox Café.
By Sunday morning, our birthday crew was going in separate directions. Some to the spa, some headed home, so it was my morning to get around and see the city. I scoured Yelp for potential breakfast spots and hit on the Blue Fox Café. Four and a half stars on 129 reviews, with many warning about the wait. It was already almost 8:30 am, so I get movin'.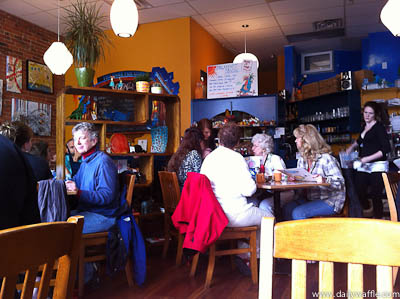 The line actually isn't too bad when I get there. Yep, I'm standing by the first window at the rug place, but it could be worse (see the line above – around 10ish). BTW – have you ever seen a rug store that wasn't having a sale? The guy in front of me in line is a local and is chatting it up with the party in front of him and gives a couple of other breakfast recommendations. John's and Shine. I make a mental note. About 10 or 15 minutes later, I luck out with a table near the front windows.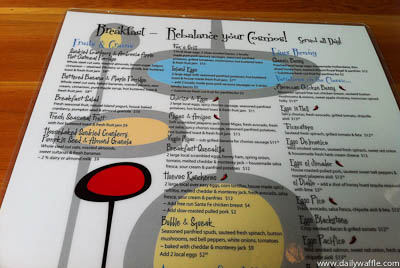 I have no problem eating by myself, especially when in pursuit of good food. But this is when it's sad. Everything on the menu sounds good. Everything. From the Buttered Banana and Maple Porridge to the Bubble & Squeak, to the Peasant Toast, to the laundry list of Eggs Benedicts. And all I can order is one thing. Is Eggs Blackstone a known thing? Clearly I need to widen my Eggs Benedict horizons. It's almost the perfect breakfast. Crispy, salty bacon on a bagel with tomato and two poached eggs with just enough gorgeous, runny yolk to dress everything. I skipped the hollandaise.
Service was super friendly, and while my food came pretty quickly, I didn't feel like I was being rushed out of there to turn the table. Worth the wait? Definitely. Bringing Wolf with me next time for sure.
Blue Fox Café
919 Fort Street
Victoria, BC
(250) 380-1683
M-F 7:30 am – 4 pm
Sat-Sun: 8 am – 3 pm