I keep the weather in other cities on my phone just to torture myself. Right now the line up is: home, Victoria, BC; San Francisco; Sydney; San Diego; Denver; and Arezzo. We went to Italy two years ago and Arezzo still hasn't been deleted from the list. It's in the low 90s, high 80s this week in Arezzo, just a tad too hot, but still the idea of sitting out under a pergola, looking out into a valley in Tuscany as the sun dips beneath the horizon, sipping a little pinot grigio, with a little antipasti…well, that sounds like dinner.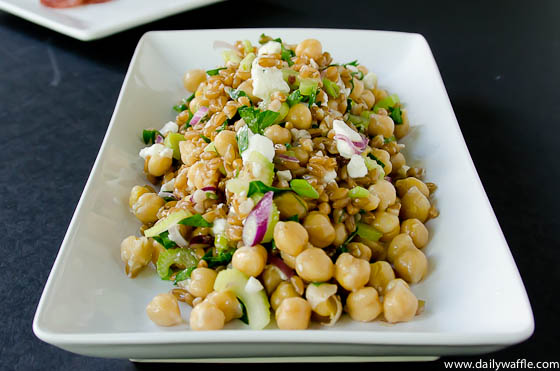 For an antipasti party, the salame and the cheeses are a given – a little sopressata, some salame Toscano, a little spicy Calabrese, some prosciutto. Maybe some roasted peppers, olives. It's all gorgeous, and deliciously salty, so make yourself some pane Toscano (zero salt). Another post on the bread is coming soon…I've got to make a second loaf.
So we need a little salad to go along with, que no? I've been in love with farro's chewiness for awhile, and it's perfect here with chickpeas, a little crunch from celery, salty creaminess from the feta, cut with a lemony vinaigrette.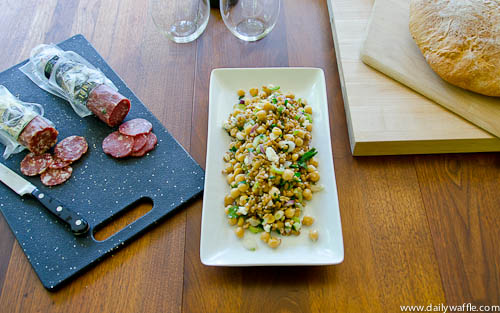 A couple of notes — the pre-crumbled Greek feta is just fine, but if you've got a Trader Joe's near you, there's this Israeli feta they carry, "Pastures of Eden." It comes as a small block and isn't sitting in a briny bath. It's got a slightly creamier texture, though it still crumbles nicely into the salad. If you can get it, try it.
On the scallions — around here they're usually green onions, but it's spring, so we've had red spring onions at the farmer's market.
If you want to do this as a side dish for 3-4, double the recipe. The original is designed to go along with nibbles.
Ingredients
1/2 c. emmer farro

1 1/2 c. water

1 (generous) c. cooked chickpeas (or 1 14 oz. can, rinsed and drained)

1 celery stalk, cut crosswise into 1/4 in. pieces

2 T. Italian parsley, roughly chopped

4 scallions, chopped on the bias (white or red and 1 inch of the green)

juice of 1/2 a lemon

2 T. olive oil

1/4 c. feta cheese, crumbled

salt and pepper
Instructions
1
Combine farro and water in a small sauce pan and bring to a boil. Reduce heat to low and simmer for 1 hour.
2
Let cool and drain off any excess liquid.
3
In a medium bowl, combine farro, chickpeas, celery, parsley. Stir in lemon juice and olive oil. Add feta cheese. Taste it. Salt and pepper, as desired. Chill for 30 minutes or serve at room temperature
RELATED: Farro Salad with Kale, Cherry Tomatoes and Feta